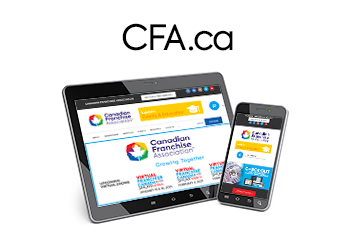 Build Your Brand on Canada's #1 Franchise Website!
The CFA's corporate website should be part of your franchise sales and marketing strategy. Our domain authority and aggressive marketing campaigns ensure we're Canada's top online source for franchise information.
Every year, more than 100,000 franchisors and franchisees turn to cfa.ca for answers to their franchising questions. Leverage our credibility and audience by advertising today! All CFA members receive a free member listing on cfa.ca, but you can turn your basic listing into a full profile page and rank higher than your industry competitors with one of our advertising packages. Available at various price points, there's an option for every budget.
There's never been a better time to add cfa.ca to your franchise sales and marketing strategy!
To learn more about our advertising packages, contact Nav Matharu at nmatharu@cfa.ca.

Thank you to the following members who are National Sponsors and support CFA throughout the year: