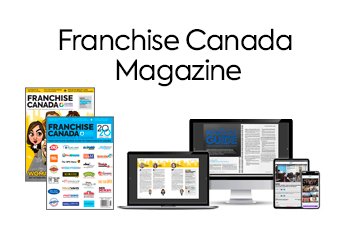 Franchise Canada digital magazine and directory are the Canadian Franchise Association's official newsstand publications, focused entirely on inspiring and educating prospective franchisees about the opportunities in franchising, and are industry award winners for excellence in editorial, design, and circulation.
Align your message with the CFA and reach serious prospective franchisees. Our newsstand magazine provides you with:
CREDIBILITY
Align your franchise opportunity with the credibility that only the Canadian Franchise Association can deliver.
MEASURABLE ENGAGEMENT
Track your ad's results with unique weblinks, surveys, codes, and coupons.
FLEXIBILITY
Choose your presentation style with unique placements, sizes, and shapes and reach prospective franchisees with content during specific timeframes.
AFFORDABILITY
Through a range of advertising sizes, we can tailor a campaign to suit any budget.
VISUAL IMPACT
Make an impression that will showcase your brand through graphics, detail, and text in a way that only print can create.
TRUST
Magazine advertising is perceived by readers as content and part of the magazine experience.
VALUE-ADDED BONUS FOR ADVERTISERS!
With every display ad you receive:
FREE 1/4-page Marketplace ad with your logo + 150 word description ($465 value)
FREE banner ad on the Franchise Canada website
Link from your ad to your website in the digital edition of Franchise Canada
Company name listed in Advertisers' Index for quick and easy reference

Thank you to the following members who are National Sponsors and support CFA throughout the year: