After the successful launch of their first franchise last November, Piri Piri Rotisserie is presenting a series of entrepreneurship events with special guests, entrepreneurs and Piri Piri's management team on how to acquire a franchise and on developing the business mindset and skills to be successful. Held at their flagship restaurant which serves as a training and role model store for new franchisees and managers, it will be the best time to receive all the pertinent information on joining the evergrowing team. The three workshops will feature:
Gold medallist, motivational speaker, and entrepreneur Bruny Surin
World's strongest man, television host and entrepreneur Hugo Girard
Festival promoter, marketing, and construction entrepreneur Jean-Paul Mouradian
Piri Piri Rotisserie is the only Portuguese Canadian owned restaurant chain that quickly adapted to the pandemic's health restrictions and remained successful despite several closures in the industry. Piri Piri currently operates six (6) rotisseries since 2012 and launched its expansion plan via the franchising model in 2020.

PIRI PIRI IN NUMBERS
Six (6) corporate locations: Hochelaga, Plateau, Masson, Côte-des-Neiges, Quartier Latin & Longue
Pointe
Four (4) franchises sold: Vaudreuil, Beauharnois, Boucherville and Montreal West Island
Two (2) leases secured and in final negotiations
ENTREPRENEURSHIP SERIES: ACQUIRING A PIRI PIRI FRANCHISE
When:
Tuesday March 15th with Bruny Surin
Monday April 18th with Hugo Girard
Tuesday May 17th with Jean-Paul Mouradian
What Time: From 6 to 8 pm (please arrive at 5:45pm)
Where: 6060 Sherbrooke Street East, Montreal, Quebec

To attend the workshops, please RSVP by sending an email to laurraine@marketingjpm.com.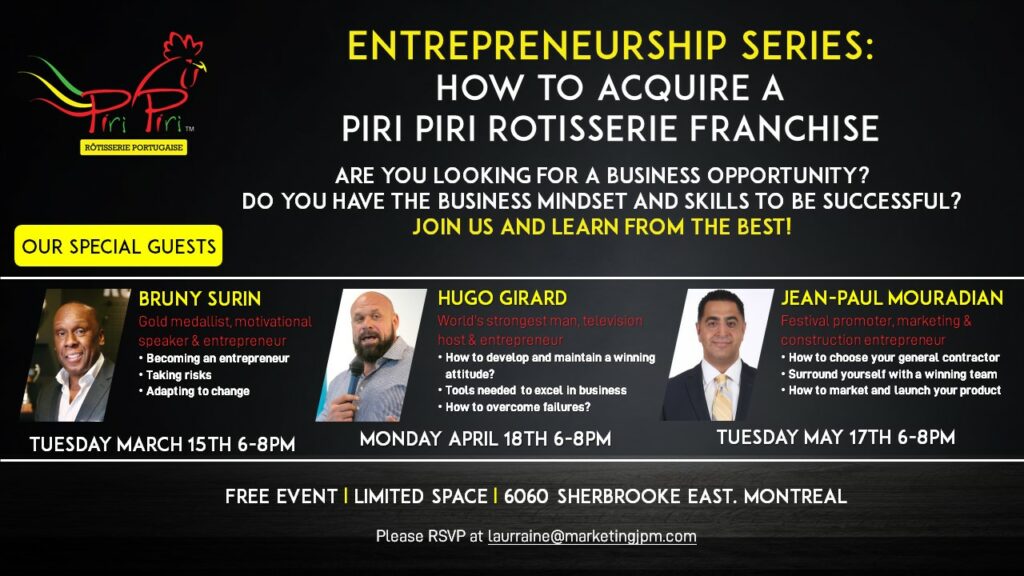 ABOUT PIRI PIRI ROTISSERIES
Piri Piri Rotisseries was created by Portuguese Canadian entrepreneur Antoine Charles Assuncao with its first
location on Masson Street in 2012. His mission was simple and ambitious: to be the first one to open a chain
of Portuguese rotisseries serving delicious and traditional grilled chicken & meats in front of customers.
Almost ten years later, we can count six (6) operating locations and four (4) in the process to open. The
brand's successful track record in the Montreal region steers them in the next logical step: expansion with
25 rotisseries by 2025 as the first goal. Piri Piri Rotisseries stands out as a pioneer in transforming the rich
Portuguese cuisine into a successful chain of quick service restaurants, while keeping its authenticity,
freshness, and taste.
For more information, or to request an interview, please contact:
Laurraine Leblanc
JPM Marketing Solutions
438 875-6543
laurraine@marketingjpm.com