By Kym Wolfe
For many franchisees, finding business success while providing essential resources to their communities is vital to their franchising story. These four women own franchises across Canada and, despite investing in a male-dominated industry, have persevered to become leaders who inspire and motivate their teams.

Donna Bilodeau and Jackie Raymond, FASTSIGNS International Inc.
Twenty-some years ago, Donna Bilodeau and Jackie Raymond's children attended the same school, and the two women got to know each other through their volunteer work. "We worked really well together, and we knew we could make a great partnership," Bilodeau recalls. When the opportunity presented itself, they purchased a FASTSIGNS franchise in Windsor, Ontario, and have since grown it to almost $1million in annual sales.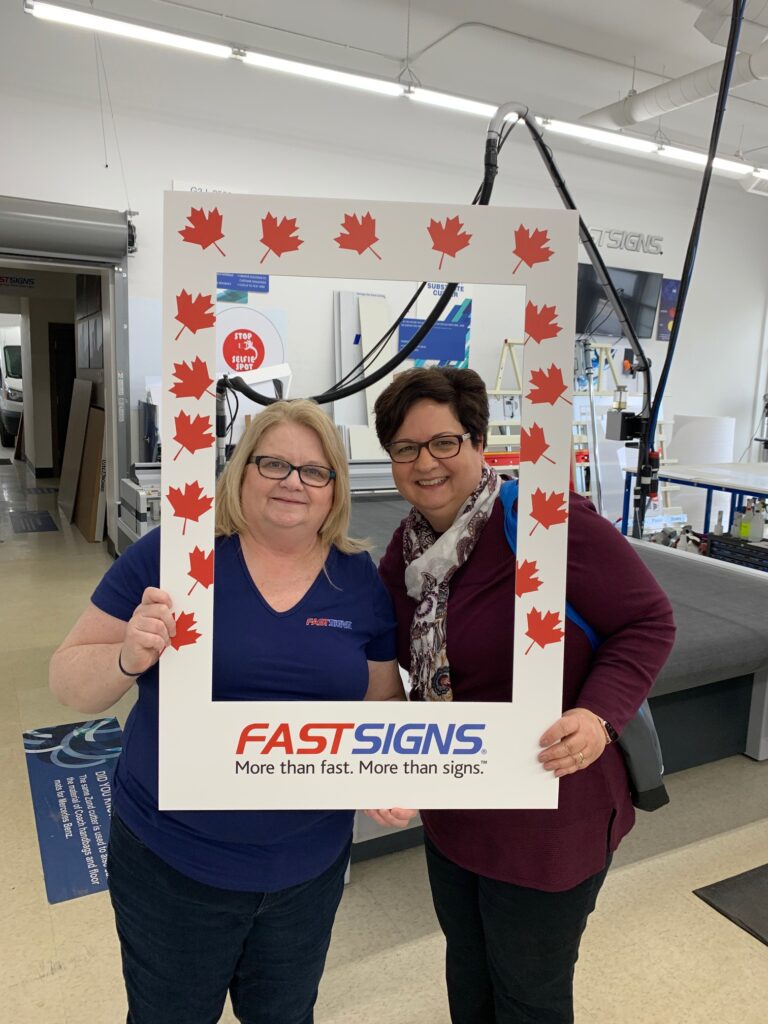 Bilodeau worked in customer service for a large financial institution, while Raymond was in graphic design at a printing firm. Both realized the value that a franchise system would offer. "Our royalties pay corporate salaries, and we take full advantage of their expertise," says Bilodeau. She and Raymond appreciate the research and development that the franchise undertakes, along with the resources made available to them. University of FASTSIGNS courses ensure that they and their employees are continuously updating their skills and knowledge base, and initiatives like the newly introduced 'click and call' sales and marketing tools help them manage their business more efficiently.
The franchisor was also instrumental in helping guide the women through the purchase of a subcontractor's business in 2020, giving them the ability to fabricate light boxes and other specialty sign products in-house. That required their fourth move in 20 years, each triggered by the need for more space. They started in a 1,200 square-foot retail space, but the business evolved, and larger digital printers were purchased, so they needed drive-in bays to do vehicle wraps, and most recently, a place to park a trailer and bucket truck for sign installation. They now operate in a 7,800 square-foot standalone building with a fenced yard with eight employees and take on co-op and summer students.
The majority of business is B2B, and Bilodeau and Raymond say that as women working in a male-dominated industry, they have worked hard to educate themselves about their clients' businesses and to learn the commonly used lingo and terminology. "We want to talk their language," says Raymond. "We are not selling them a commodity; we are selling solutions."
The women also note the positive changes at the franchise level since a female, Catherine Monson, took over the helm as CEO of FASTSIGNS International. (In September, Monson was named 2019 Most Admired CEO by the Dallas Business Journal. Monson was also named Chair of the International Franchise Association in 2020 and will remain in the position through 2021.) "There has been a shift in focus from top line sales to profitability," says Bilodeau.
Bilodeau and Raymond have always supported local charities. To celebrate 20 years as co-owners they decided to get involved in 20 different causes last year, some chosen by their staff. While COVID-19 put a crimp in their plans, they hope to complete the 20 in 2021.

Stephanie Bennett, Good Earth Coffeehouse
Stephanie Bennett comes from a family of strong women. She has five sisters and one brother, raised by a woman who had immigrated to Canada from Jamaica. "My mom had her own cleaning business, and wanted her children to own bigger businesses," says Bennett. She was extremely proud when Bennett and her younger sister Cynthia Noronha purchased the Good Earth Coffeehouse franchise in Airdrie, Alberta, just north of Calgary, in November 2019.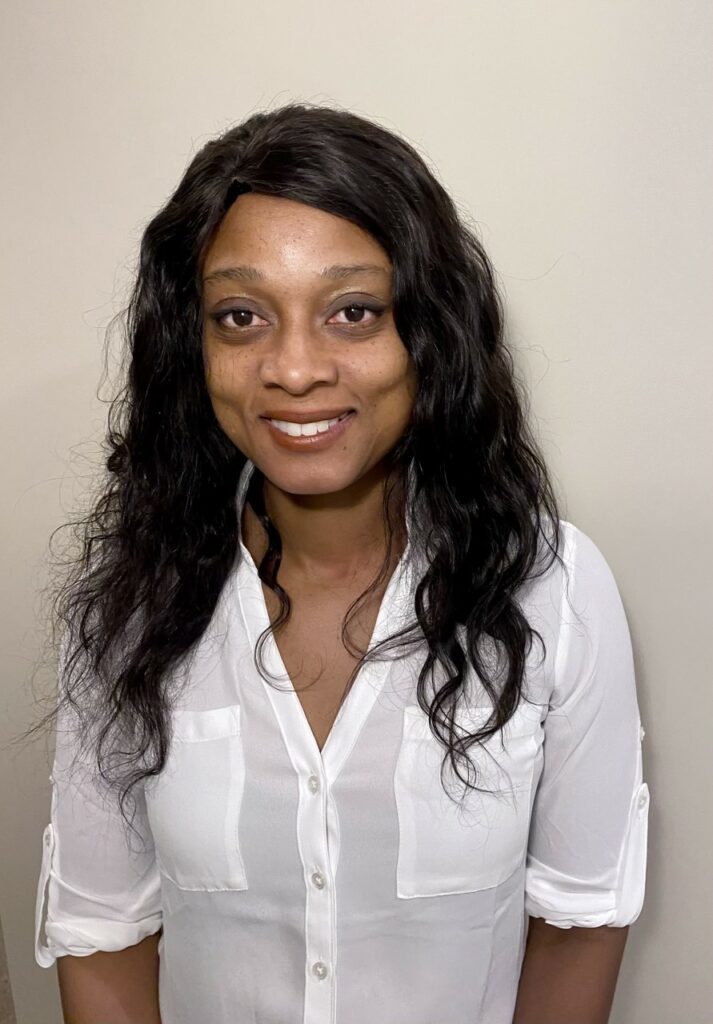 As a student at the University of Calgary, Bennett had spent a lot of time at the Good Earth Coffeehouse on campus. That included "Hours of studying, fuelled by delicious and wholesome food when I didn't have time to go home and cook," she says. "Good Earth left an impression on me." After graduation, she worked as a software engineer, eventually moving to work for the City of Airdrie.
But Bennett had a yen to become an entrepreneur. "I talked to my sister and asked if she wanted to help me realize my dream, and we've been working together ever since," she says. During their first year, COVID-19 reduced business and then a fire shut down the café completely for two months.
When the pandemic hit, "Good Earth researched resources and communicated constantly with us, and our regional manager visited often," says Bennett. While Good Earth Coffeehouse is a 30-year-old brand, Bennet is fairly new to the business. "We had not gone through these economic ups and downs, so we were going through that learning curve withour franchisor. When I talked directly to the manufacturer to tweak the design of our barriers, they shared our ideas with other franchisees."
One reason the sisters chose Good Earth is that it aligns with their desire to connect people in their community. "We provide a venue for Airdrians to enjoy events organized by the community. Our community loves our food and drinks, they are comforting and wholesome. We provide local jobs, and we've partnered with the Boys and Girls Club to give youth a position that will help them develop work skills," says Bennett.
The café is the kind of place that encourages people to sit, relax, and chat, but that wasn't possible with COVID-19 restrictions. "A lot of customers checked in to offer their support, and came for takeout. A lot told us that they want to support women in business."
This past year, Black Lives Matter also opened the conversation about diversity, says Bennett. "They are supporting a business owned by women of colour, but mainly they say, 'We're here to support you because of the service you give us.' I have no doubt that once the restrictions are lifted and we are back to being fully open, we will be busier than ever."

Rhoda Udumukwu, TWO MEN AND A TRUCK Canada
Rhoda and Nicholas Udumukwu came to Canada from Nigeria as professional immigrants, he with experience in the banking sector, she in the oil and gas industry. After hearing about the successes that friends in Western Canada had as TWO MEN AND A TRUCK franchisees, the couple opened their own location in Ontario.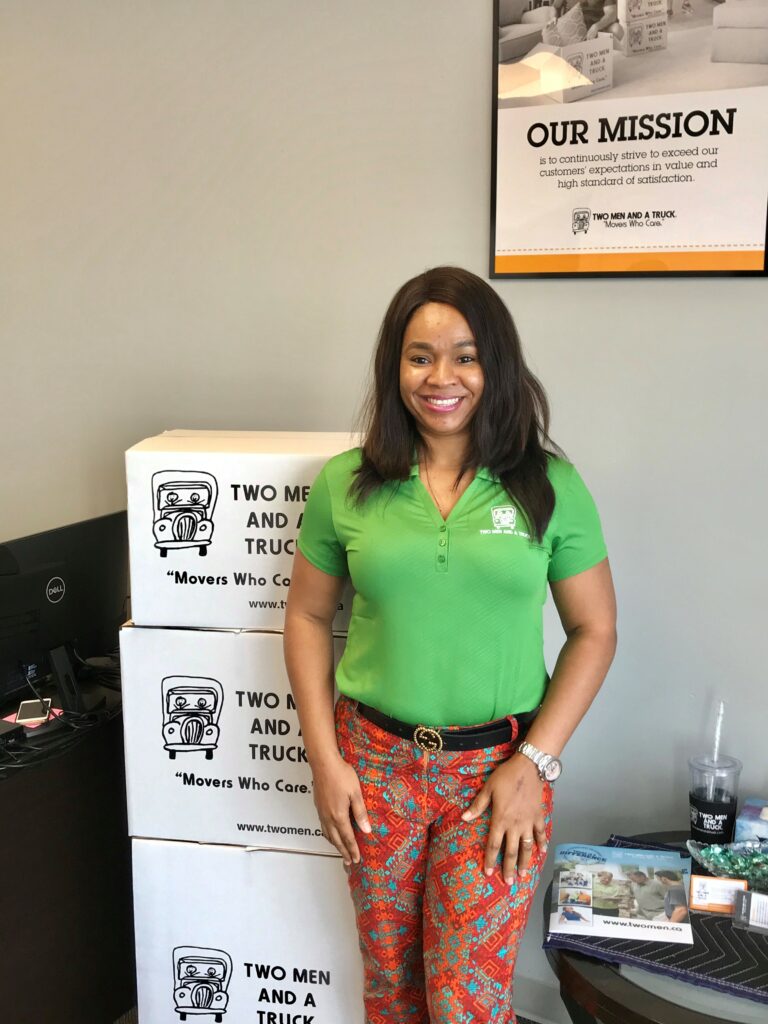 "We had job offers, but we felt that this would offer us a better work/life balance," says Rhoda. "We need to pay attention to our four children, and this franchise offers mainly daytime hours. We needed a business model that has a proven track record, an established brand, the know-how, high success rate, and market awareness. After due diligence, we felt TWO MEN AND A TRUCK was the best choice. The technological resources are sophisticated and user friendly, the tools and resources for success are readily available. Primarily franchisor support played a huge part, and through the entire gamut [of startup activities] they were awesome!"
Rhoda has always worked in a male-dominated industry and says, "For me, being a woman is an enabler. Multitasking comes naturally, and I have a 'nothing is impossible' mindset. I thrive and strive for excellence regardless of gender."
She is using her experience, nurturing abilities, and management skills to build a good team and positive corporate culture. "People just want to be treated fairly and with kindness, and to feel valued." In the beginning, Rhoda was involved in some of the actual move and pack jobs, "to show them that I have the hands-on ability to do this – and that this business is not just about the muscles, but also the skill."
The family relocated to Windsor in December 2019, with a planned opening in March 2020. Rhoda says, "Starting the business with all the bottlenecks presented by the COVID-19 pandemic is an accomplishment in itself. Moving is considered an essential service, but hiring staff was difficult at the time. With support from the franchisor and our own doggedness, we were finally open for business in September."
The delay caused financial stress for the family, partially alleviated when the franchise helped negotiate an agreement to defer pick up (and payments on) the trucks they were purchasing. The Udumukwus are also covering a large geographical territory with both Windsor and Sarnia markets, and feel the need to open a satellite office in Sarnia in the near future to better serve that market.
As soon as they were able to open, the phone started ringing right away. "Corporate put ads in the Windsor daily paper and sent them an article about us, and we got calls from people who had seen the ads," says Rhoda. "We intend to capture our market fully in the next 18 months, and our goal is to have our children work for and run the business in the future."