OWN A BUSINESS & TAKE CONTROL OF YOUR FINANCIAL FUTURE WITH A FRANCHISE!
About the Franchise Canada Show
Since 1996, the Franchise Canada Show has helped thousands of Canadians realize their dreams of building their own successful business, and take control over their financial situation. Now, the Franchise Canada Show is going virtual to help Canadians set up for franchise ownership success, and discover the many rewarding franchise opportunities in your area.
Learn about business ownership opportunities with exciting and proven successful franchises without leaving the comfort of your home office. Attend Legal, Financial, and Franchise Consultant sessions given by experts in the industry to help you move to the next step in franchising! The Virtual Franchise Canada Show is 100% online and empowers you to access information and connect live with franchise representatives at a time during social distancing.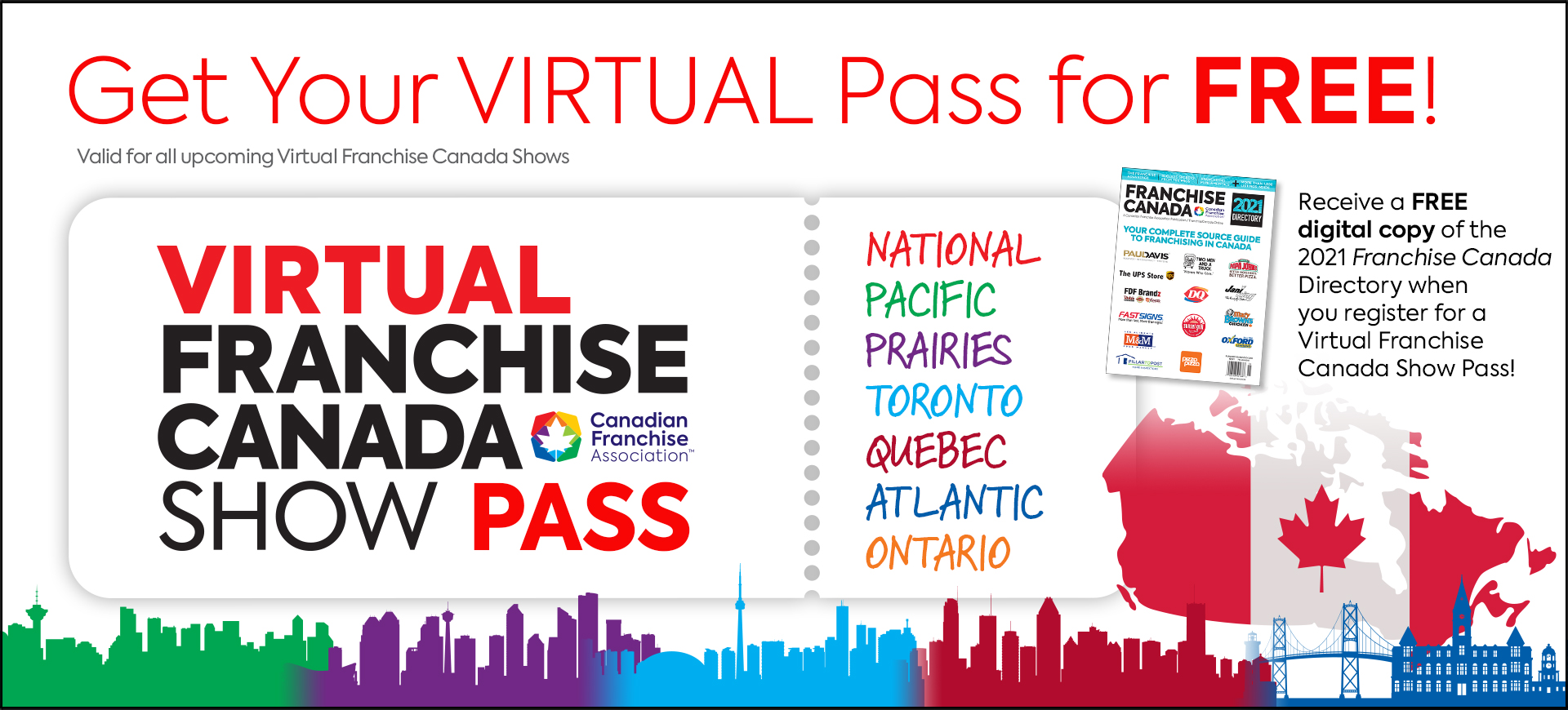 Introducing: The All-New Virtual Franchise Canada Show Pass
Gain all the information you need about buying a franchise and discover franchise opportunities with top brands from a wide variety of industries across Canada! When you sign up for a Virtual Franchise Canada Show Pass, you'll be pre-registered to the Virtual Franchise Canada Expo in August and to all upcoming Virtual Franchise Canada Shows, including new Shows that are yet to be announced, so you don't miss any of the educational content and available opportunities to own a successful business!
Shows You Will Gain Access To:
Additional Shows and Events To Be Announced!
BONUS: Receive a FREE Digital Copy of the 2021 Franchise Canada Directory (valued at $9.99 CAD) when you register for a Virtual Franchise Canada Show Pass!
The Canadian Franchise Association's (CFA) annual directory is the most comprehensive guide to franchise opportunities available from coast-to-coast across Canada. Inside you'll find listings for more than 1,300 franchise brands across the country. We also feature educational articles about the successes and advantages of franchising and introduce franchisees who have made their entrepreneurial dreams come true with franchising.