Second-generation Minuteman Press franchisees Gord and Alisa Gelderman share insights on operating as an essential business during the pandemic, rebounding from the initial shutdowns in Canada, and growing to achieve record sales in 2020 by supporting local businesses with critical products and marketing services.
For Gord and Alisa Gelderman, no year was more challenging for their family-owned Minuteman Press franchise in Chilliwack than 2020. At the same time, because printing was classified as an essential business, Gord and Alisa were able to remain open and operating throughout the COVID-19 pandemic. As a result, Minuteman Press in Chilliwack was able to simply reach out and be there for their clients. By supporting other local businesses at such a critical time, Gord and Alisa were able to rebound from the initial onslaught of the once-in-a-lifetime pandemic and grow their sales significantly by the end of 2020.
Today, Gord and Alisa are proud members of the Minuteman Press International President's Million-Dollar Circle for achieving yearly gross sales of at least $1 million. This is especially impressive since they achieved record sales for their 23-year business despite the initial challenges of the lockdowns last year. Gord reflects, "It means a lot to us that we have been able to grow our business to this level. We had a significant dip in sales for a while in 2020 when the pandemic first hit, but were able to recoup and exceed those losses by the end of the year. Two things were key in this: Our great staff and the excellent position the franchise support from Minuteman Press International has put us in to help us adapt and grow."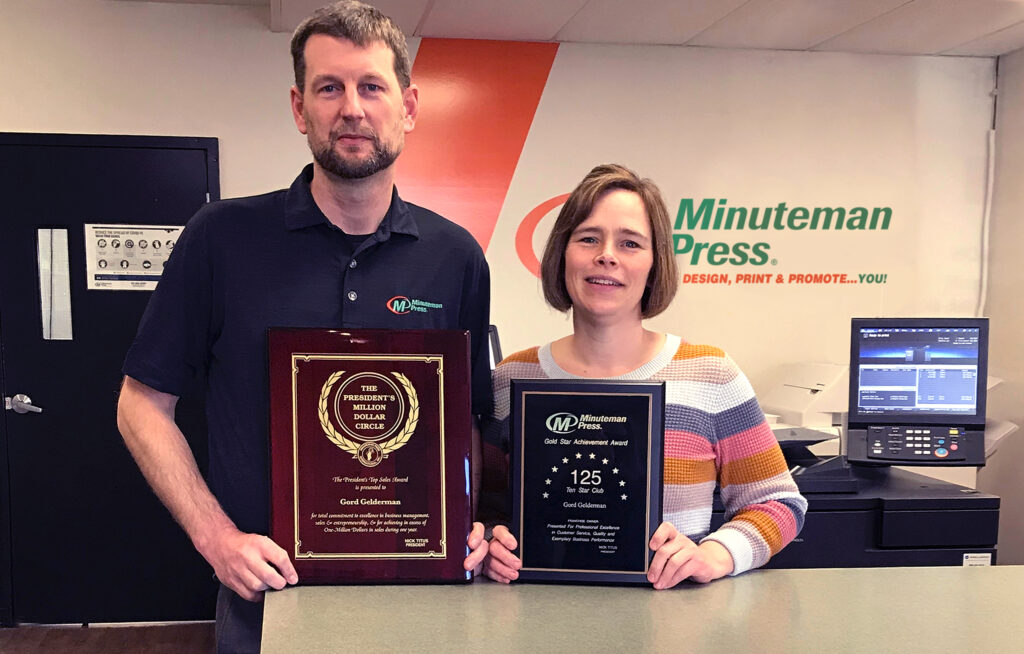 Gord also credits the renewed support and solidarity among the small business community for being able to grow during the pandemic. He says, "There is just this sense of all of us helping each other out. At the beginning of the pandemic, we kept promoting ourselves as essential, reminding clients that we are still open and here to help. We made sure to let them know of our delivery and curbside pickup options, and we established a strong rapport by promoting and shopping local with other small businesses."
Minuteman Press in Chilliwack has been operating since 1998 and was first operated by Alisa's father Henry. Gord and Alisa officially took over the business when Henry retired in 2016. The community ties they have built as a family business for 23 years have also been a huge help to continuing to thrive despite the pandemic. "Things have come full circle for Alisa, and I am so happy that we are still standing strong as a business and as a community as we emerge from this together."
Print is Essential
Two of the biggest keys to growth for Gord and Alisa are that print is an essential industry and that Minuteman Press in Chilliwack listens to their clients and fulfills their printing and marketing needs. Gord says, "Client responses have been overwhelmingly positive. We accommodate rush orders due to ever-changing government COVID-19 policies, we have an excellent and fast graphic designer who has a pulse for what our clients need, and we try our best to design and print pretty much anything."
Another way that Minuteman Press in Chilliwack has been helping clients stay connected with their potential customers is through their direct mail services. Gord says, "We offer all types of marketing services including mailing, which we are doing more now than ever before. We also take a cross-media marketing approach to promote our own business, which is something we can help our clients do. We participate in the Minuteman Press International Internet Marketing program and have focused on increasing Google reviews for our business by simply asking our customers to review their experience with us."
Taking Over The Family Business
Prior to buying the family business with Alisa in 2016, Gord was no stranger to the concept due to his previous employer. He says, "I worked in a family-owned and operated automotive supply store for 22 years, starting while in high school. I held various roles over the years from Delivery Driver, Shipper/Receiver, Parts Person and eventually Operations Manager. I chose Minuteman Press in 2016 when my father-in-law Henry was about to retire. I was always somewhat intrigued about the industry and Alisa did work with him for the first few years until we began having children. We are happy with our decision and to continue the family tradition that Henry and Alisa started in 1998."
Rewards & Advice for Local Businesses
As he looks back on his decision to become a business owner, Gord says, "Owning my own business is hard work but it is satisfying to see the results. Previously, I worked hard for another company putting in long hours and caring deeply – now the hard work I put in is for something that is mine and for my family's future. It is also rewarding to build relationships with other business owners through local organizations such as BNI.
When asked what local businesses can do right now, Gord answers, "Local businesses would do well to focus on maintaining fantastic customer relationships. This can lead to bigger things later on. As restrictions are lifted in time, things will likely be a lot busier for most people and the time to prepare for that is right now."
He concludes, "Focus on being positive and diversify your offerings as much as you can. Keep your customers happy and continue to build credibility."
Minuteman Press Chilliwack is located at 101 – 45778 Gaetz Street; Chilliwack, BC V2R 4E5. For more information, call 604-858-9099 or visit https://www.chilliwack10.minutemanpress.ca.
Learn more about #1 rated Minuteman Press franchise opportunities and read Minuteman Press franchise reviews at https://minutemanpressfranchise.ca.
Contact:
Minuteman Press International Franchise Opportunities
1-800-645-3006
https://minutemanpressfranchise.ca
or
Media: Chris Biscuiti
631-249-1370
cbiscuiti@mpihq.com