Franchising families with Spiritleaf and CENTURY 21 share how business success is in their blood
By Stefanie Ucci
Some might say you can't mix family with business, and while that may be true for some business owners, these two franchising families are proof that kin and business can be the perfect recipe for franchising success.
Tim Brown and Cara Rose-Brown have been married for 34 years and franchisees together for more than 20 years, with their first Oil Changers quick lube franchise purchased back in 1999. After selling that business and looking for a change, the couple now owns a Spiritleaf franchise in Stittsville, Ontario, that they opened in July 2020.
As for sister trio Katelyn, Carly, and Paige Fulton, their CENTURY 21 head office is located in Scarborough, Ontario, with five offices total in Scarborough, Toronto, and the Durham Region. They were inspired to join the business by their successful father who's been known as the number one CENTURY 21 office in Canada for 26 consecutive years.
Both franchising families participated in season 4 of the Franchise Canada Chats podcast: Cara was featured in episode 6, and Katelyn, Carly, and Paige were on episode 8.
While discussing the topic of franchising with families, both guests happened to mention one big thing in common: franchising and business is in their blood. Their stories show that franchising with family members can provide that familiar helping hand to create business success together.

Turning over a new leaf
Describing Spiritleaf as a "beautiful, warm, welcoming, high end, classy brand," Cara says she and Tim were thrilled to choose the brand as their new franchisor.
After selling their first franchise, there was no question that the couple wanted to go into business with each other again. "I never would have considered opening this business without Tim!" says Cara. "We complement each other's skills so well. People talk about how you can't live and work together in a business, but that's not true in our case. Our skills complement each other greatly and we couldn't do it without each other."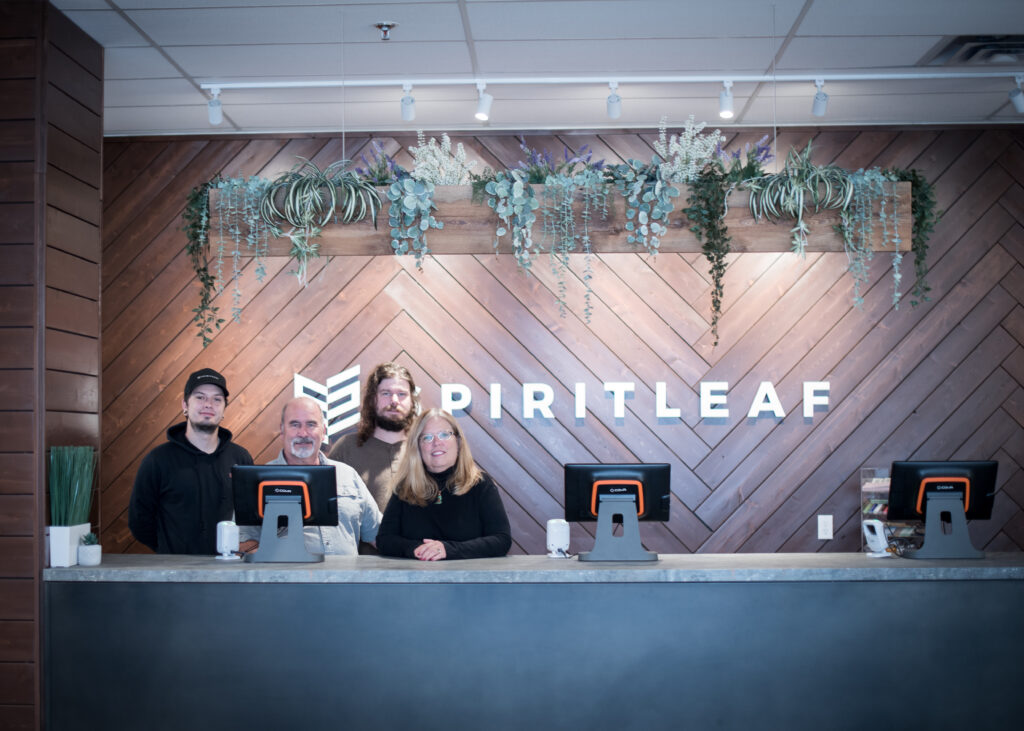 She adds, "But we did discuss the pros and cons before signing on with Spiritleaf about opening our own store versus going with a franchise and just opening a mom-and-pop shop. But we realized with this being a legal cannabis retail store and the industry being so new, there was a lot of value in joining a franchise system."
The couple also has a 31-year-old son, Mitch, who's grown up within a franchise family and helped his parents by working for them at their Oil Changers franchise on evenings and weekends while he was in school. "Mitch has a strong interest in learning everything he can about cannabis," says Cara. "After leaving Oil Changers, he got a job at one of the original cannabis retail stores in Ottawa in order to gain experience that would eventually help us when we opened our store in Stittsville."
Mitch's connections within the industry ended up helping his parents hire what Cara calls "cannabis geniuses" that are the backbone of the store. Plus, she says that at home, the family, along with Mitch's girlfriend Emily, discuss how their day went and what could be improved at the store.
Their strong relationship both at home and at work helped the family to win an award just five months into their franchise being open. Cara explains that at Spiritleaf's annual franchise awards held in December 2020, she and Tim were voted Franchise Partners of the Year out of the 70 Spiritleaf stores that were also open at the time.
"Many people say that you can't work and live with your family but, for some reason it's always worked for us. I guess the challenges are that the buck stops with us when there is an issue—we're the ones that have to deal with the big issues or any problems within the franchise and it does cause stress in a family sometimes when things don't go the way you expect or want them to go," says Cara. "As far as working with the family though, I wouldn't do it any other way."

Home is where the heart is
For the Fulton sisters, their decision to join the CENTURY 21 brand emerged after each sister had chosen her own niche to work in. Katelyn worked in the healthcare industry as a pediatric cardiac sonographer; Carly was originally in the corporate world doing human resources and finance work for a global cosmetic company; and Paige worked in human resources for a large insurance company.
Katelyn says she was the one who got the ball rolling on franchising. The sisters grew up watching their father work for CENTURY 21 Percy Fulton, an office that's been around for more than 40 years. "One day I just had some sort of thing fly over me that said I need to join the family business, and I started researching a little bit more into real estate and if it was something for me. I actually approached my father first and sent him a little bit of a resume. I really just wanted to get away from the corporate lifestyle and dive in with the family business that's been around for so long," says Katelyn.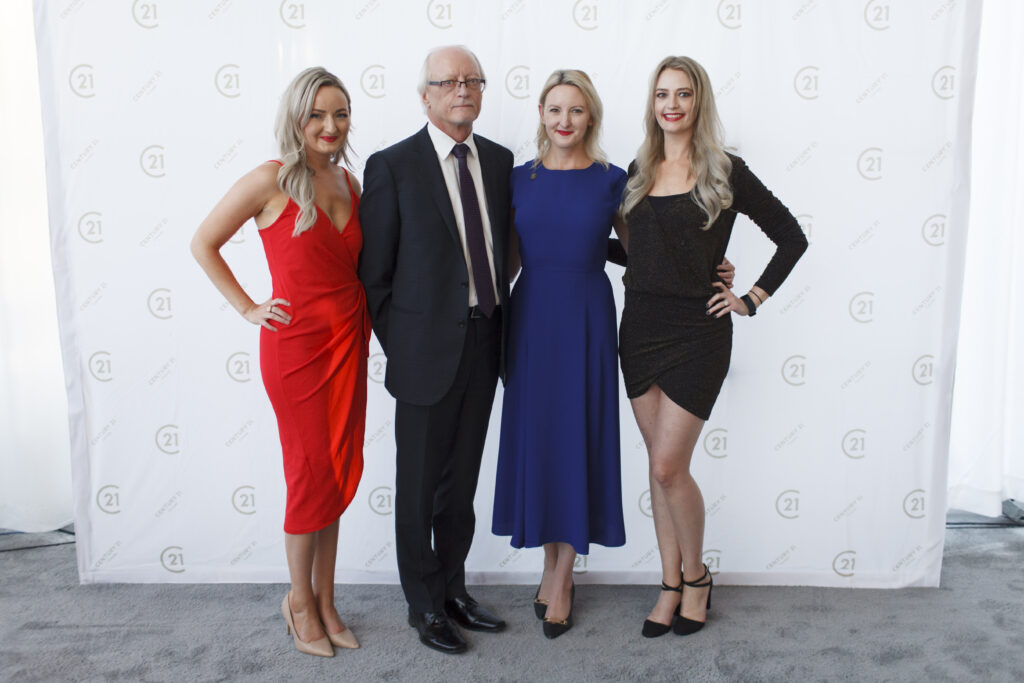 Once the business was up and running, Carly notes that one of their most surprising realizations was how well they get along as business partners. "We did a lot of pre-work before that to mitigate that risk, but I think surprisingly we really enjoy working together every single day," she explains. "I don't know if all families can say that or not. I think we're a bit special, but I quite like working with my sisters and my dad. We also have an uncle that works with us as well. We're a true family business, so we really like that."
As for the benefits of franchising with family members, Paige says that being sisters in business together is quite a unique feat. "Being a family, we know each other better than anybody else. We know what makes us tick, our faults and strong suits, so I think we really play well off of each other. We know when to pick each other up and when to motivate each other," she notes. "We've been really fortunate that we have gotten along really well. But you also want to make sure that you keep it professional, so don't let personal issues become part of the business."
Paige adds that the sisters did personality tests to get to know each other's strengths and weaknesses and to learn how they each handle conflicts. Plus, they worked with each other for more than a year before they took the leap and quit their jobs to open the CENTURY 21 franchise. Hiring a consultant helped with their business planning and goals to make sure they were all on the same page. "You almost have to plan every single aspect, especially with your family," says Carly, who adds that they plan how many vacation days they're going to take each year, how many work-from-home days they each want, and even how many hours per week they put into the business.
Outside of work, Katelyn notes that their family created the rule that there's no talk about real estate at the dinner table when they get together. "It can be really easy to bring business home and have a meeting at the kitchen table on Easter, but we have to make a conscious effort to try to leave work when we're at home and really engage with each other on a more personal level."
Katelyn adds that the family legacy creates a bit of pressure but is also inspiring to look up to. "Being able to support our family through this family business has been really awesome, and what keeps us going every single day is just our family."