New franchisees and husband-and-wife team Shekhar and Shobha dive into their vigorous first year with The UPS Store
By Suzanne Bowness
Shekhar and Shobha are both business and life partners, as new owners of The UPS Store franchise in Aurora, Ontario. They even met at work, both building their careers in the travel industry over many years, where they still own an agency. Together, they made the decision to go into franchising when the travel space was in decline due to the pandemic.
As they manage their busy store one morning, while also trying to answer questions about their business, the partnership is on full display: Shobha emails to ask if the interview can be postponed by 30 minutes as the store is so busy (yes! a good problem to have) and when the Zoom meeting begins, it's Shekhar in front of the camera explaining that Shobha is staffing the store and will pop in later. He provides the background on their startup, and as she arrives later, he leaves to manage the customers. Clearly a team effort.
Shekhar explains that their process of exploring franchises focused mainly on brands that would fit with their previous work experience. "Having worked in the corporate industry, there's so many things that are similar to when you're working in The UPS Store, like administrative work, printing, faxing, and shipping. Shipping is very close to the travel industry itself. And because travel is also a customer-service oriented industry, it's all about relationships and being good at handling people," he explains.
The couple also considered buying an existing store, but decided ultimately that they wanted to start fresh and saw great potential in the developing community of Aurora, which also had the advantage of being in close proximity to where they live in Markham. They opened their doors in September 2021 after a few months of settling on a site and setting up shop.
Shekhar says that he chose to franchise with The UPS Store because of the brand factor, which he thought would have serious advantages over an independent operation. "I liked the franchise because it's a very strong brand—with a mom-and-pop courier shop, you'd never be able to do it because you wouldn't have the traffic. Every [store location] looks similar, [plus] they already have their services and pricing established. All that is a big advantage," he says, adding that he was pleased with the level of support provided by the franchisor.

Packing, shipping, and improving together
Of course, they did face challenges. "From setting up a brand-new business, because everything has to be done from scratch, to looking for a location, to having it refurbished to the standards of The UPS Store. And during pandemic times, all that was pretty challenging," recalls Shekhar. Another hurdle was the effort to introduce themselves to a new community, something that they've made a huge effort towards. "We've been actively and aggressively marketing and advertising by word of mouth. We've been doing interviews, and publications have released some of our  'grand opening' pictures," says Shobha, adding that the business also grew exponentially in November and December thanks to holiday parcel sending. They magnified that success even further with a focus on consistently excellent customer service. "Since then, we've gotten a lot of repeat customers who've given us great Google reviews, which bought us a lot more repeat customers and referrals," says Shobha.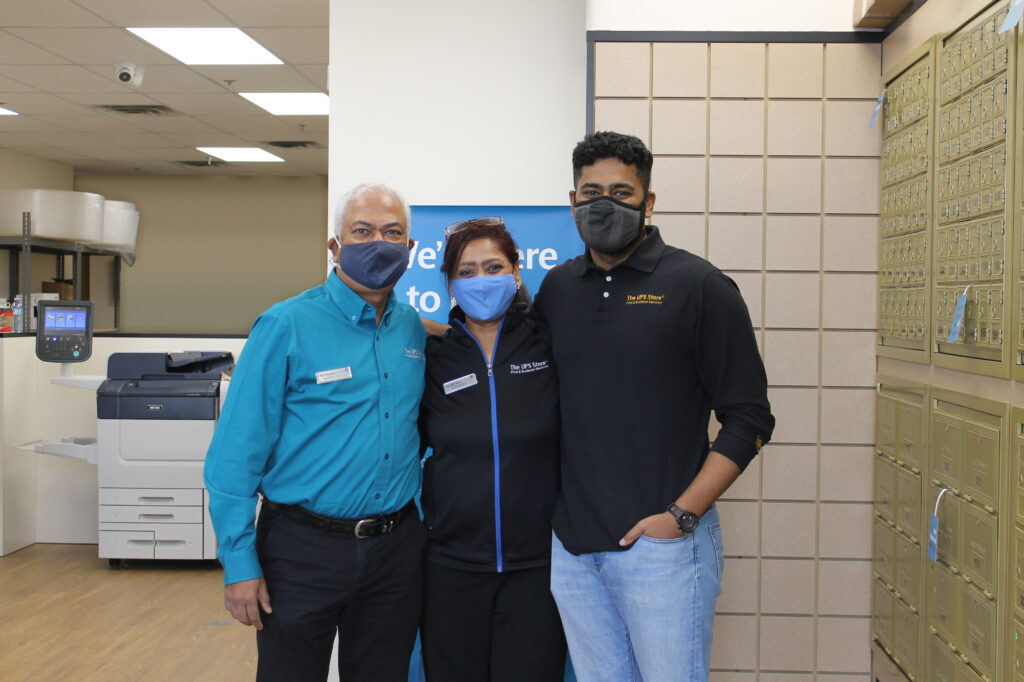 As a South Asian couple, Shekhar and Shobha represent a growing diversity in franchising. Shobha says she values the experiences she's had since immigrating from India. "Canada is a very multi-cultural country, and a lot of us who immigrate here come with a vision to not only provide and have a better living, but we want to make a mark. To set an example for those in our own countries that says, 'you can move out of your home country and be successful in what you're doing.'"
So, what advice does she have for other immigrants? "I would say, when you dream, dream big. And then when you dream big, strive to achieve it." She also adds a practical element. "Get into things that you can do. Weigh your pros and cons, your abilities and capabilities, and then choose a franchise or a business, or even work where you know that you can put in 100 per cent."
As for their own dream, Shobha and Shekhar plan to just keep growing their business and their reputation in Aurora. "At this point, we're really in the infancy stage. For next year, we've identified areas to expand, and other services and product lines to add," says Shekhar, musing that they might get further into printing or graphic design, depending on what their community needs. As with their life and work together, it's more of the same: building and improving together.