Pizza Nova celebrated its move to a new support and call centre, November 26,  with an intimate lunch prepared by founder Sam Primucci at the site's expansive and modern test kitchens. Prior to the lunch, Domenic Primucci, President of the company, revealed a commemorative portrait of his father on a Vespa, one of the icons associated with the pizza brand since its founding in 1963.
"We're more prepared than ever for the future," says Domenic Primucci, President of Pizza Nova. "The new support office is everything we expected, and more. We are very excited to bring new and existing franchisees through our doors and spend quality time with them, doing what we love most – preparing delicious meals and spending quality time together."

The lunch and surprise portrait reveal were held during one of the company's routine Friday lunches – a tradition the company began more than 35 years ago with district sales managers and support staff. The portrait's unveilling was a heartfelt moment for the Pizza Nova team to reminisce around its founder. What started as a bold idea in 1963 by four brothers to share the taste of Italy with Canada has now grown into a family entreprise that is able to share its passion for pizza with customers through more than 140 locations across Ontario.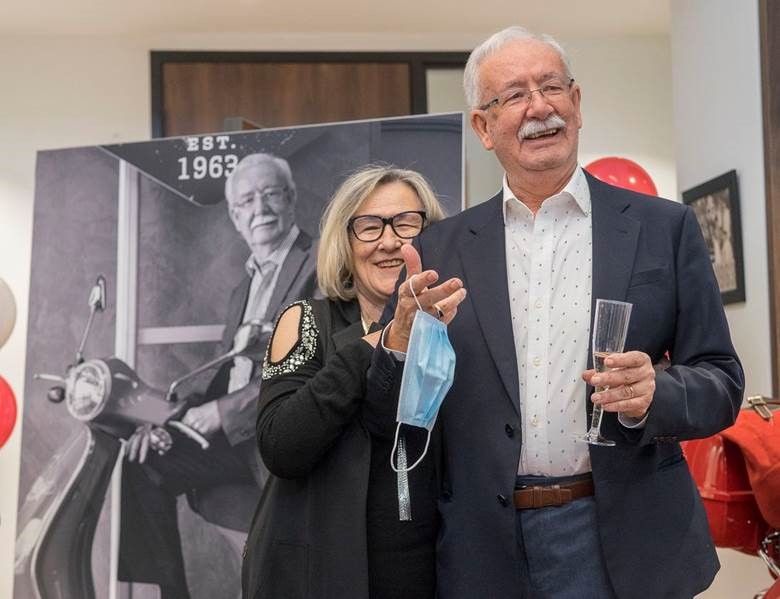 Family-operated and long lauded for its community work, Pizza Nova offers a wide range of menu items including salads, lasagna, panzerotti, Italian sandwiches, chicken wings, FOCACCIA BARESE™ and a specialty line of Primucci branded products featuring Italian Peeled Tomatoes, Extra Virgin Olive Oil, Homestyle Tomato Sauce, Italian Hot Peppers, Spicy Green Olives and Sundried Black Olives. Known for its fresh toppings and ingredients, Pizza Nova offers contactless delivery, pickup, online ordering via app and website and some sit-down service.
The new support office is located at 1260 Lawrence Avenue East.
See pictures online at pizzanova.com – corporate.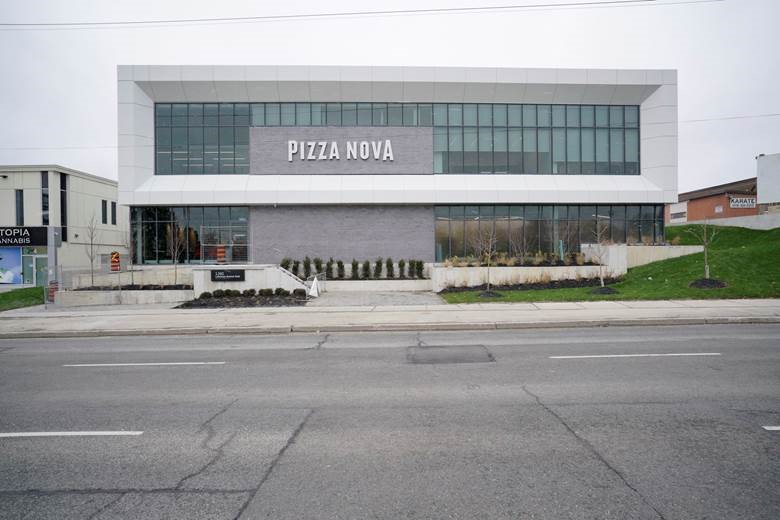 Founded in 1963, Pizza Nova is a family-operated business and has over 140 locations in Southern Ontario. Lauded for its community work, the company specializes in fresh toppings and offers a wide range of menu items including salads, lasagna, panzerotti, Italian sandwiches, chicken wings, FOCACCIA BARESE™ and a specialty line of Primucci Branded Products featuring Italian Peeled Tomatoes, Extra Virgin Olive Oil, Homestyle Tomato Sauce, Italian Hot Peppers, Spicy Green Olives and Sundried Black Olives. Pizza Nova offers contactless delivery, pickup, online ordering via app and website and some sit-down service. For further information visit pizzanova.com or contact Tina Sinfarosa at (416)-439-0051 or tina@pizzanova.com
Media contact, information and resources:
Mary Moniz
Torchia Communications
647-278-0152
mary@torchiacom.com