Rabba Fine Foods opened a new market in Regent Park Wednesday, August 4, featuring an in-store counter offering Middle Eastern-inspired quick-serve meals prepared freshly in store. Bright, spacious and with a wide assortment of household staples and fresh produce, the location is the 35th within the Rabba network and the third to offer a take-out service in partnership with Paramount Fine Foods.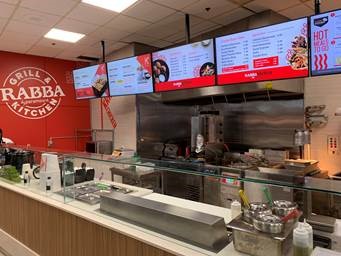 "We're delighted to open a market in the Regent Park neighbourhood," says Rick Rabba, president of Rabba Fine Foods. "This location, which has its own personality and unique characteristics, is the fruit of a long road of planning and partnerships. We're eager to contribute to the life of community in partnership with the Paramount Fine Foods team."
The result of mutual respect between the two foodservice brands, the Rabba Kitchen by Paramount concept has been piloted since 2020 and, in time, is expected to be rolled out across multiple locations. The first two locations to feature the take-out counter included Rabba at 25 Kingsbridge Garden Circle in Mississauga and 252 Queens Quay West, in Toronto.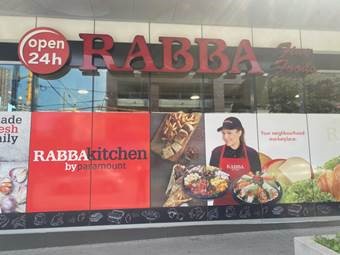 "The region of the Middle East has long been revered for its flavours, spices and wholesome meals," says Mohamad Fakih, founder and president of Paramount Fine Foods. "Together with Jack and Rick Rabba and their team, we're happy to honour our common roots from the region while sharing our love of food with even more people than we could achieve on our own."
Located at 683 Dundas Street East in Toronto, the menu of this new location features classic Paramount fare including shawarma, shish tawouk, kafta and falafel, as well as the most popular items from the Krispo Chicken concept, featuring farm-fresh ingredients that are also Halal. The meals, available in wraps or with rice and salad, are packaged in easy to carry takeout boxes. The counter is open from 11 a.m. to 9 p.m. daily.
RELATED: Rabba Joins Mayor Bonnie Crombie in Donation to Erin Court Co-operative Homes Inc.
About Rabba Fine Foods
Rabba Fine Foods is a local market and convenience store that serves the daily grocery needs of more than 35 neighbourhoods in the central and western parts of the GTA. Open year round, 24 hours a day, Rabba offers everything you'd expect from your local market – fresh produce, deli counter, ready-to-eat items, bakery, dairy products and other essential supplies for home or work. A family-run business with roots extending back to 1967, Rabba is committed to serving its neighbours and friends in the GTA and meeting their ever-changing grocery and convenience needs. For more information on Rabba or any of its locations, visit rabba.com.
About Paramount Fine Foods
Paramount Fine Foods is a global Middle Eastern cuisine restaurant chain. The restaurant sources the freshest products including freshly baked pita bread straight from wood burning ovens, charcoal BBQ Ontario raised halal meats and famous shawarmas prepared daily by its chefs with exotic spices from the Middle East. The restaurant also serves delicious baklawa prepared by its pastry chefs from its full bakery. All recipes authentic and passed on for generations are low in fat and wholesome in taste. The restaurant is committed to making no compromises when it comes to service, quality and the overall customer experience. For more information on Paramount Fine Foods or any of its locations, visit paramountfinefoods.com.
For more information:
Samiha Fariha
Torchia Communications
Cell: 647-268-6687
samiha@torchiacom.com