Hallmark Gold Crown franchisee Liam Vance shares how the store has helped him connect with his community, and what it takes to run a retail franchise
By Joelle Kidd
Whether it's a thoughtful card, a meaningful keepsake, or a beautiful artisanal item, gifts are always precious—and a way to show someone you care. That's why, for Hallmark Gold Crown franchisees like Liam Vance, running a business is also a conduit for community connection.
"Hallmark strives to create a retail experience that promotes connecting people and nurturing relationships," says Vance.
It was this corporate philosophy that drew Vance to Hallmark in the first place. He'd been an owner of retail business ventures since 2008, and in 2015 was looking for an opportunity to grow his portfolio. "I compared several options and after creating a friendship with another franchise owner in the region, I found the [Hallmark] concept and branding inviting and full of potential." Vance notes that "people are always looking for connection," and that the Hallmark brand offered ways to help foster relationships. "That really connected with what I was looking for in a business."
For the brick-and-mortar retailer, a big part of this connection comes through the in-store experience. "Customers have the option to shop online. However, we're noticing that, now more than ever, they're craving the experience of coming into the store and talking with our associates to find inspiration, and help them connect to people in their lives in meaningful ways," Vance says.
"We're more than your average store, just ask our many wonderful customers!"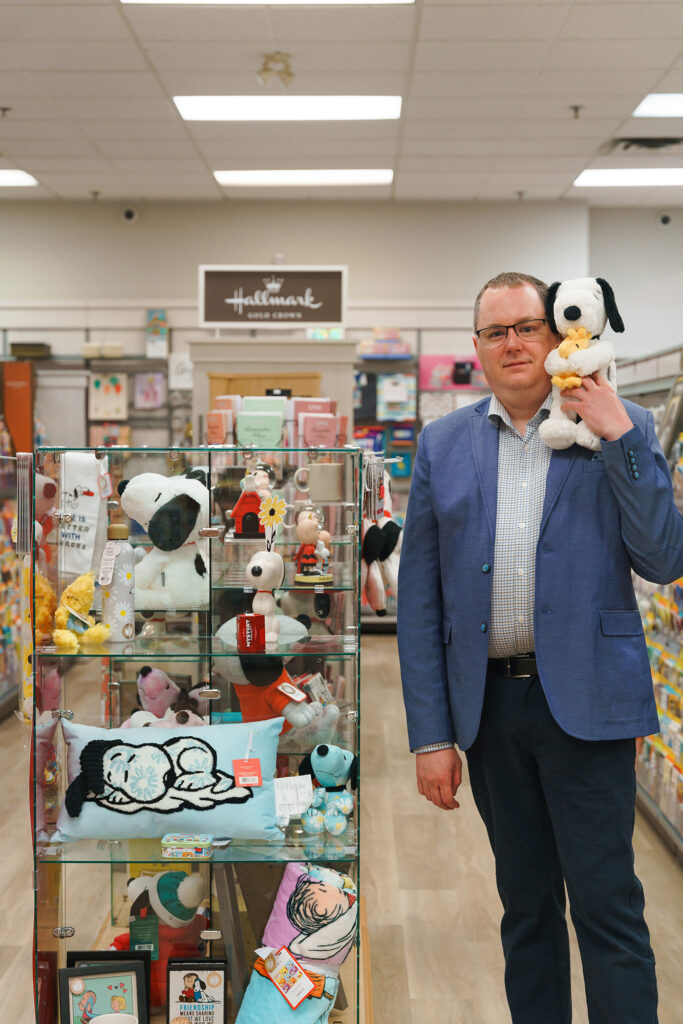 It's a celebration
Hallmark's mission is also to bring people together. As a gift shop, selling the special items that people use to celebrate and show their care for one another is a given.
Among the most popular items is the Keepsake ornament collection available only in Hallmark Gold Crown stores. Vance says, "these are curated, artist-based collector pieces, and really resonate with our consumers on an emotional level. The excitement and anticipation for our July launch seems to grow every year!"
Vance notes that franchisees also source and sell high-quality locally made products in their stores. In his case, these include Nova Scotia-made treasures: hand-poured, 100% soy candles from Truro, stunning jewellery from Eastern Passage, and "decadent, melt-in-your-mouth delicious chocolate" from Antigonish. "We want our fellow community members to be successful alongside us," he says.
"It's very important for our customers to know that we are independently-owned and -operated and live locally." It can be hard finding great local gift options, and Hallmark stores occupy a niche that solves this challenge with the added purchasing power of a national brand. "We work hard to offer a wide variety of options to relate to our customers, all under one roof," Vance says.
Community involvement goes beyond the walls of the shop, too. Vance's location supports local charities such as the SPCA (Society for the Prevention of Cruelty to Animals), animal rescue organizations, food banks, homeless shelters in the area, and many other worthy causes. (If you haven't guessed, Vance is an avid animal lover, with two cats of his own.) "We want to help give back to our hometowns," he explains.
Since Hallmark is well-known around Canada—and worldwide—as a brand focused on relationships and well-being, franchisees get a leg up on fostering these community connections, Vance notes. Hallmark Gold Crown locations are also able to feature their product online with e-commerce support, through a website and on social media, in a way that reflects their own market and helps create the strongest retail portfolio possible. Not to mention the brand's loyalty program, Hallmark Rewards, which helps show customer appreciation through exclusive promotions.
Weathering the pandemic—and coming out stronger
When COVID-19 spread in March of 2020, it was a shock for retail businesses—not only did the pandemic cause supply chain disruptions, but public health guidelines to stop the virus' spread meant these businesses couldn't reach their customers. "There were months that we needed to close the stores, as we were deemed non-essential retail," Vance recalls. "At that time, we weren't sure what the duration of the closures would be, or how to manage the cost. […] It came as a shock, and I'll be honest, it was a very stressful time in our lives."
But if there's one thing the pandemic has made clear, it's the value of innovation. Vance and his team developed an online space—www.maritimegifts.ca—to reach customers online during lockdown, offering curbside pickup and reorganizing the stores to provide hand sanitizer and social distancing measures when they were able to reopen.
The benefits of being part of a larger franchise system became clear when faced with challenges during the pandemic. "One of the biggest challenges that customers are noticing is the ongoing inventory delays caused by shipment and labour shortages worldwide," Vance points out. "Hallmark has taken this matter to heart by placing orders for product earlier than usual, to be proactive in planning for success."
Vance says, "The future of retail has been forever changed, and we're fortunate to say we've come back stronger than ever."
Franchising for the (gold) crown
Business ownership might not be for everyone, but Vance says he can't imagine doing anything else.
"Deciding to be a retail owner is understanding that there is so much potential to grow and develop, with the right tools," he adds. "Going in understanding that you're charting your own course, and having the right attitude, is half the work."
An ideal Hallmark franchisee has to be adaptable—an owner in a fast-paced retail setting has to wear many hats—and prepared for ever-changing consumer trends and expectations, Vance says. Communication and leadership skills are also essential. "[You have to] ensure that managers and store associates are given the right tools to succeed. Even more important than that is having a connection with them. The old adage that employees are not just numbers couldn't be more true—as an owner, it's vital to ensure employees feel safe, welcome, appreciated, and heard."
Hallmark has plenty of training and support to get new franchise partners on their feet. This includes an internal sales training program (called CARE) that helps staff learn sales skills and connect meaningfully with customers. The brand also has a team of Business Development Specialists to assist franchisees with ordering, communication on key events and activities, and ongoing feedback. At Vance's location, "we work closely with Haley Brunelle on an almost daily basis to ensure the success of our business."
There are also marketing benefits: Hallmark uses social media platforms, influencers, and digital advertising to support the business, and provides marketing materials like in-store signage. There is also a centralized web-based ordering system, Hallmark Marketplace, used for most ordering purposes, which Vance says gives him "immediate access to product information, guides, and additional training."
When asked what advice he would give a prospective franchisee, Vance recalled what another franchise owner told him, at the beginning of his own franchise journey: "You're not here because you want to become a millionaire—you do it out of passion and love for the product." The sweat you put into your business is worth it, he says.
"Retail has its successes and challenges, [but] what never waivers in the world we live in is the need for connection. The beauty in that is that people want to express their love, appreciation, support and positivity, now more than ever," says Vance.
"It's truly amazing that despite all the struggles we see in the world, something as simple as a card can change someone's day in an instant."
For Hallmark franchising information, visit www.hallmark.ca