British Swim School
British Swim School is Canada's premier "learn-to-swim" program, offering water survival and stroke development instruction to infants as young as three months up to adults well into their sixties, and all ages in between. British Swim School has leveraged a proven franchising model to become a leader in the $5 billion Learn to Swim School industry.
This is a low investment and easily scalable model, with the added bonus of being a purpose-driven brand providing a life-skill to your community. Backed by multi-brand franchisor, Buzz Franchise Brands - winner of inc. 500, British Swim School helps franchisees dive in!

Investment Required:
$93,700 - $125,050 USD
In Business Since:
1981
Available Territories:
All of Canada
CFA Member Since:
2021
Franchise Units in Canada:
18
Corporate Units in Canada:

What is British Swim School?
Learning to swim is an essential life skill that every child should know, but it's about more than just mastering the perfect swim stroke; it's about teaching water safety and survival techniques to combat the many lives lost to drowning. For 40 years British Swim School has taught all ages, from infants to adults, how to swim and be safe in the water through unique and highly effective teaching methods that are a recognized trademark of the brand.
Why British Swim School?
British Swim School provides an exceptional business opportunity providing a service that will never go out of style – and with a strong focus on people, cannot be replaced by technology. With a well-earned reputation including a ranking in the top half on Entrepreneur's 2020 Franchise 500 list, it's no wonder the mission-based brand is growing quickly across North America.
DEMAND: We provide warm water, small classes, highly trained instructors and unique programs with revolutionary techniques that are proprietary to British Swim School. Our gentle, fun and effective instruction ensures an incredible customer retention rate. Last year alone our 200-plus locations taught nearly 750,000 lessons, a 100,000 lesson increase from the year prior. Our acclaimed aquatic program, combined with our fantastic franchise owners, means British Swim School is a recognized industry leader.
LOW INVESTMENT: The common perception is that to create a million-dollar franchise business, you need a huge chunk of capital. Not with British Swim School. Our model allows entrepreneurs with limited capital or those who don't want a six or seven figure investment risk hanging on their shoulders to launch their swim school and start generating revenue.
NO BUILD OUT COSTS: We help our franchise owners acquire "access to warm water" by partnering with predominantly indoor pool owners in fitness centers, hotels, schools, and other community facilities. We contract with these underutilized pools to bring in revenue for the facility owner, and of course for the franchisee. By using pool "space" managed by others, there are no ongoing costs associated with maintaining the facility. It's a win-win situation!
NATIONAL PARTNERSHIPS: British Swim School has existing partnerships with national fitness organizations like LA Fitness and 24 Hour Fitness and is working to secure additional partnerships at a national level. The company has also developed multiple local partnerships with other fitness centers, hotels and community centers. This helps our franchise owners to acquire warm, indoor pools quicker, without the need to negotiate new contracts with every location.
If you're ready to start making a difference in your community, reach out to learn more and secure your territory today!
As the North American leader in "learn to swim" programs, British Swim School's revolutionary water survival program has earned us spots on Entrepreneur's prestigious Franchise 500 and Top Franchises under $150K lists. But we get it – the idea of owning a new franchisee location can be a bit intimidating.

That's why we've recently launched the Canadian Foundation initiative – and we want you to be among this elite team.

Spots are limited – so don't miss your chance!

Join our Canadian Foundation….*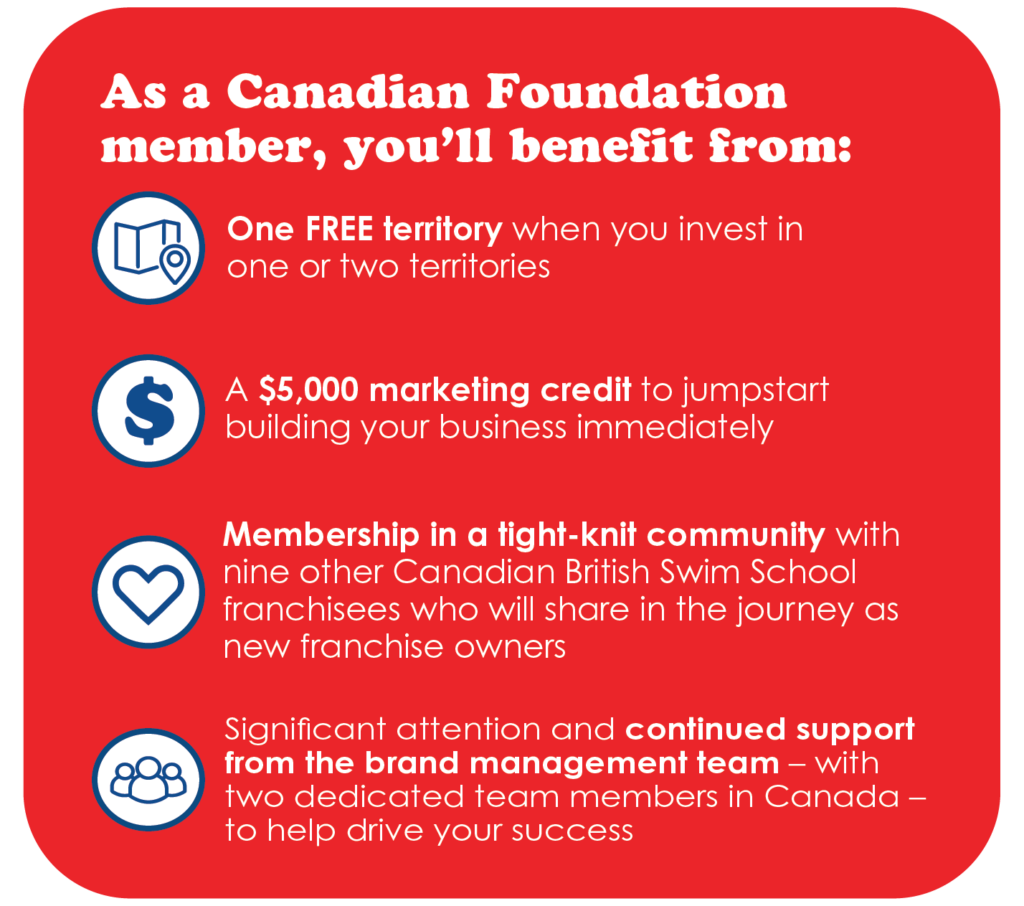 Ready to "dive back in" and learn more about this exclusive opportunity? Call 844-794-6249 or email us at franchising@britishswimschool.com to speak with someone from our team. We can't wait to have you in our Canadian Foundation of Franchisees!