Score Pizza is a win for franchisees with a passion for pizza
By Stefanie Ucci
Five years ago, Score Pizza co-founders Joel Braunstein and Paul Hineman decided they wanted to start a fast casual pizza brand that captured the essence of a great Canadian experience. While the idea first originated on a napkin, today the co-founders and their operating partners have scored themselves a successful venture, as an emerging brand with six restaurants in total and potential franchise interest for expansion across the country.
Braunstein, president, says he was born and raised in the restaurant business and has worked in every facet of the industry, "starting out as a dishwasher" and eventually moving his way up the corporate ladder. Back in the 1990s, he had a franchise system called Joel's Bagelry that he eventually sold, and he has always been eager to develop and open new concepts within the restaurant industry. Hineman, a fellow Canadian, served as executive vice president of the National Restaurant Association in the US and has "an extensive background in growing successful restaurant brands," according to Braunstein.
The first Score Pizza restaurant opened mid-year 2016 in Kingston, Ontario and a year later, the second location was launched in Ottawa. Despite the challenges introduced by the COVID-19 pandemic, the brand ended up opening four new restaurants over the past year with prospective franchisees hoping to score their own locations in open territories.

"We love Italian food and we're always eating pizza, so when we saw the fast casual pizza boom in the US, we thought it was time to develop our own concept in Canada—but we added a modern upgrade to it," explains Braunstein.
That upgrade is the open concept theatre-style service that allows guests to pick unlimited toppings and watch their pizza cook in under 10 minutes—a unique process that differentiates Score Pizza from other pizza brands.
"What I love about Score Pizza is the opportunity to enhance the customer experience. Guests of all ages love watching their customized pizza prepared and baked in front of their eyes, and will often take pictures of their masterpiece to post it on various social media channels," says Angelee Brown, director of franchising. "The brand fosters a sense of heritage and local community, while engaging the guest." Once the pizza comes out of the oven, guests can pick up a beverage like beer or wine, and dine in the restaurant or on the outdoor patio.
"SCORE" is a purposeful word the brand chose to represent their focus on scoring a great pizza at a great price, and it's also an acronym to represent their values: "Sincere" and authentic, "Community" focused, "Obsessed" with detail, "Responsible" in every way, and highly "Efficient."
Score Pizza's core mission is to "deliver craveable experiences" one meal at a time, with a focus on customer service and the fun of building your own pizza.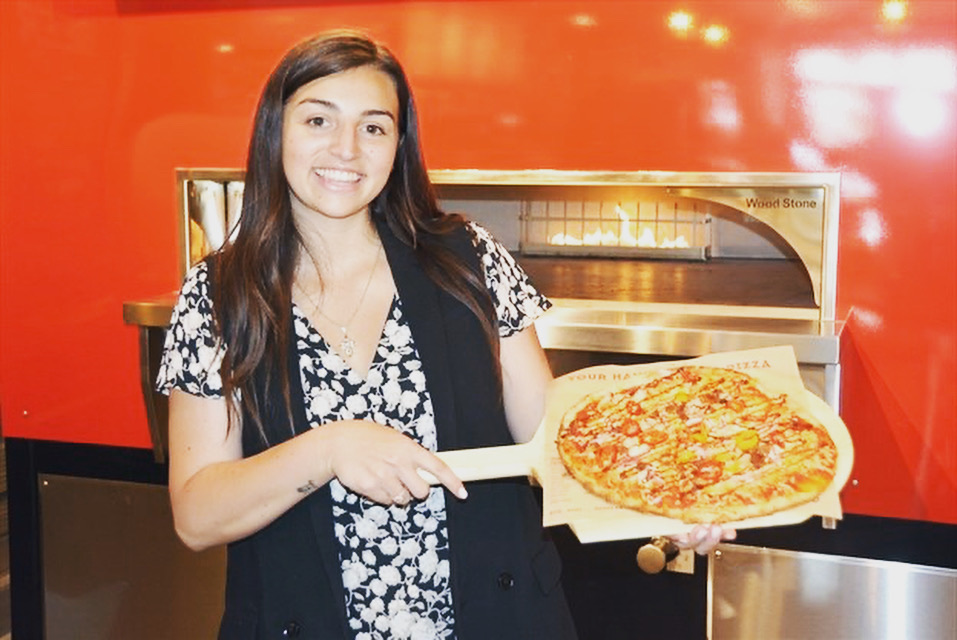 The unlimited toppings options feature fresh, local ingredients and include sauces, cheeses, meats, veggies, and finishes to be arranged on signature dough that's made fresh in-house daily. Other menu items include stone-fired sandwiches, customized salads, and desserts.
The brand is also sure to cater to the dietary needs of all guests with a peanut-free environment for those with allergies, and menu items like gluten-free crust and vegan options. Vegan toppings include plant-based meat and spicy sausage, vegan cheese, and more.
"Often, you feel like you're being penalized when your choice is plant-based alternatives because you have to add or remove toppings," notes Brown. "But I feel like I'm getting a lot of variety and good value for my money [at Score Pizza]."
Score believes in aligning its focus to build a healthy, sustainable brand with successful franchise partner experiences. Many of the employees hired at Score Pizza restaurants are recruited through referrals, explains Braunstein. Each employee receives a free meal every shift, and the operating teams have regular team appreciation meetings to celebrate their success. They also encourage all franchisees to come up with creative and fun ways to build team spirit, collaborate, and become more involved in giving back to their communities.
Braunstein notes that Score Pizza is an efficient restaurant to operate, while offering guests customized menu choices. While customers are invited to visit the restaurant to design their pizza, they can also get meals delivered to their door with third-party delivery apps including DoorDash, SkipTheDishes, and Uber Eats. "In addition to providing great in-restaurant experiences, we've also made it very easy to ensure our guests can enjoy Score Pizza at home. I think that the combination of both of these revenue models along with our 'turn-key' approach, make this a very compelling investment for a potential franchise partner," explains Paul Hineman, co-founder.
As for the characteristics that identify an ideal Score Pizza franchisee, Brown says they prefer an experienced restaurateur who has excellent operational expertise within the food and beverage industry. "There's this spin on offering beer and wine—it doesn't add a huge amount of complexity, but hospitality principles are incredibly important to the brand," she explains.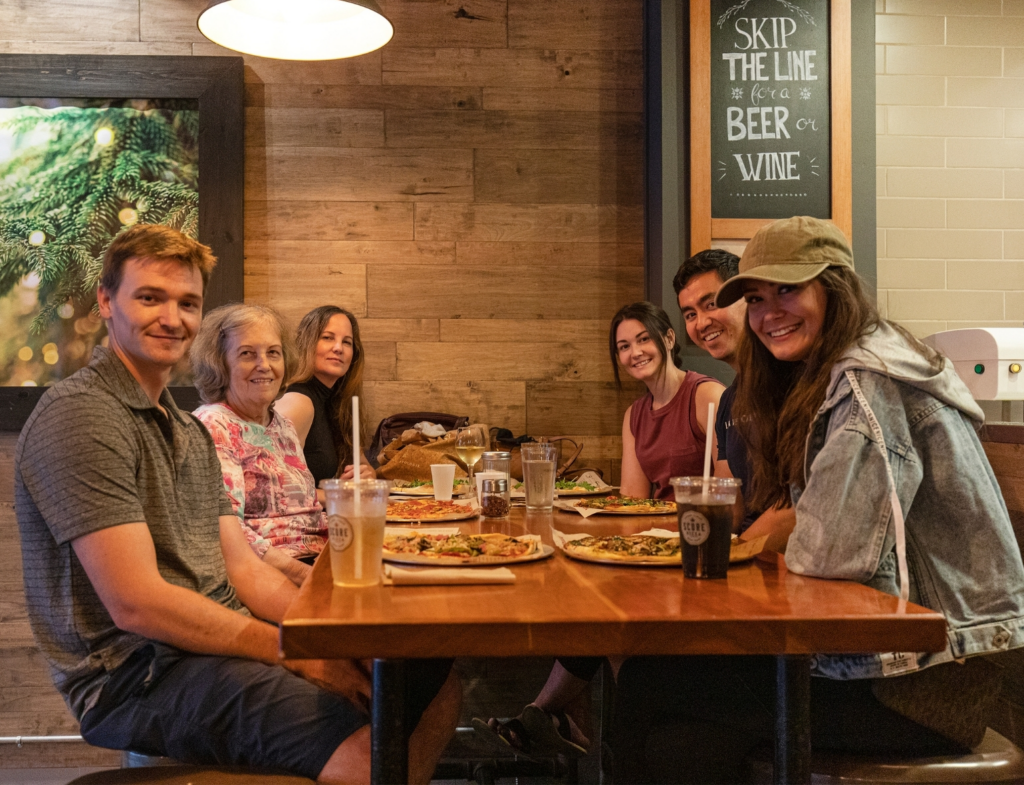 Brown adds, "Another important element is making a difference in their local communities and celebrating our diverse Canadian heritage. Our ideal franchise partners are also very passionate about quality and service, and embody the values that we have, and they must love pizza!"
Franchisees participate in an extensive training program that complements their individual skills and experience, ranging from two weeks for highly experienced restaurateurs to five weeks for those who request additional training, explains Braunstein.
Score Pizza is a proven system that's on trend and offers a unique opportunity to business owners, especially those interested in multi-unit investment opportunities across Canada. Brown explains that the brand is in a unique position in the Canadian market and has an excellent leadership team who understand how to build successful brands and overcome any potential challenges. "We're really ready to grow now and have spent five years refining this great concept to franchise across Canada. Our pipeline of potential partners is expanding every week," says Brown.
This is definitely not your standard pizza place. The appealing natural elements in the restaurants are modern, comfortable, and offer a great vibe for guests. All locations are designed by Joel's wife Heather, who has spent more than 30 years in the restaurant industry. "It's a very different look, ambiance, and experience that appeals to multiple generations," states Braunstein. Design features include red fired ovens, limestone, solid cherry wood tables, soft seating, mesquite wood walls, and rich, warm colours which reflect the brand's Canadian heritage.
Braunstein points to the success story of franchisee James in Newmarket, Ontario, who joined the Score Pizza family as an experienced restaurateur who's always invested and worked in franchise systems. "We were grateful he chose us over 12 to 14 other potential franchise brands that he investigated because of our market appeal, the quality of our menu items, and how we treat our team members."
As a result, Braunstein says, "It was a very smooth opening and he's been open for a few months now, super busy, and loving it. He couldn't believe the processes that we have in place. It's stress free and his employees are really having fun and love the guest interaction."
Braunstein notes that James' location in the Newmarket Upper Canada Mall is doing well and he's looking to expand soon with Score Pizza into other markets.
"I've been with a number of brands and have always had a passion for restaurants," explains James. "Score Pizza is exciting and there's a high demand for this concept. The simple operation in comparison to other restaurant concepts made it a clear choice for me. Due to COVID-19, we opened in the middle of lockdown. The mall was shut down, there was only one entrance and exit, and we could only do take out. If it wasn't for the support from head office, it could've been very tough. We endured the worst, and now I'm running one of the busiest locations [in] the chain and couldn't be happier."
So, what are you waiting for? It may be time to score your own pizza franchise opportunity and partner with Score Pizza for success!
Please visit ScorePizza.ca for more information.