Diving deep into summer fun and adventure, Baskin-Robbins Canada launches two new flavours this August, Hidden Treasure and Non-Dairy Salted Fudge Bar. As its August Flavour of the Month, Hidden Treasure is inspired by and helps to expand the brand's Creature Creations 2.0 "Into the Sea" lineup with its shark, dolphin and sea turtle creations. Non-Dairy Salted Fudge Bar is Baskin-Robbins Canada's second plant-based frozen dessert option, made with oatmilk.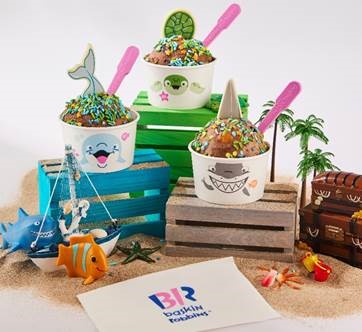 "You really don't have to scuba dive or swim to the ocean floor to find treasure," says Natalie Joseph, spokesperson for Baskin-Robbins Canada. "These two new flavours are a priceless find for chocolate lovers and taste hunters. I can't think of a better way to bring to life our beach theme and celebrate all that makes August a special month."
Hidden Treasure features a rich, creamy, chocolate ice cream with a chocolate cookie ribbon – but the real gem is the caramel-flavoured gold coins that make this deep-sea treasure worth the hunt.
Baskin-Robbins' second August innovation, Non-Dairy Salted Fudge Bar, features a dark salted chocolate base made from oatmilk, smooth fudge ribbon and chewy fudge pieces throughout.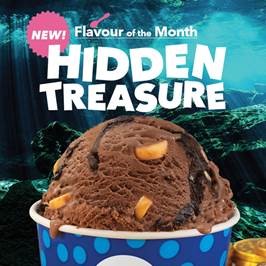 "The joy of ice cream is a treasure for all of humanity to enjoy," continues Joseph. "We couldn't be happier to expand our plant-based frozen dessert category, especially with this prized catch for chocolate lovers."
Both flavours work well as part of Creature Creations "Into the Sea", Baskin-Robbins' trio of sea creatures launched in July with a beach theme. Priced at $4.99 for a 4oz. scoop in a cup, the new flavours help customers move from the beach down into the depths of the ocean floor. In addition to the new items in store this month, Baskin-Robbins continues its Celebrate 31 tradition of 31 per cent off all pre-packs – 1-litre tubs available in 13 flavours.
Throughout the pandemic, Baskin-Robbins Canada's 105 shops have continued to serve their guests, including through delivery and takeout, according to provincial COVID-19 health and safety protocols. Please refer to the company's store locator for hours of operation and service/delivery options in your community.

About Baskin-Robbins Canada
Baskin-Robbins was founded in 1945 by two ice cream enthusiasts who shared a dream to create an innovative ice cream shop that would be a neighbourhood gathering place for families. Today, Baskin-Robbins Canada operates 105 locations in Ontario, Quebec, Manitoba and British Columbia. More than 300 million people around the world visit Baskin-Robbins each year to sample from the more than 1,300 flavour creations available in its ice cream library, as well as enjoy its full array of frozen treats including ice cream cakes. For more information on Baskin-Robbins Canada or any of its locations, visit baskinrobbins.ca.
For more information:
Mary Moniz Tia Giannone
Torchia Communications Torchia Communications
647 278-0152 514-999-1732
mary@torchiacom.com tia@torchiacom.com