According to the Canadian Federal Government 2022 statistics, there are 1.19 million small businesses and of these, the Canadian Franchise Association reports an estimated 657, 000 are franchise small businesses.
Why is this important? Small businesses help drive the Canadian economy from creating employment to giving back to the community. They may be small but they play a big role in our lives!
Here is the story of one of a million small business owners who support us:
Meet Akshana Katoch – THE TEN SPOT® in Peterborough, Ontario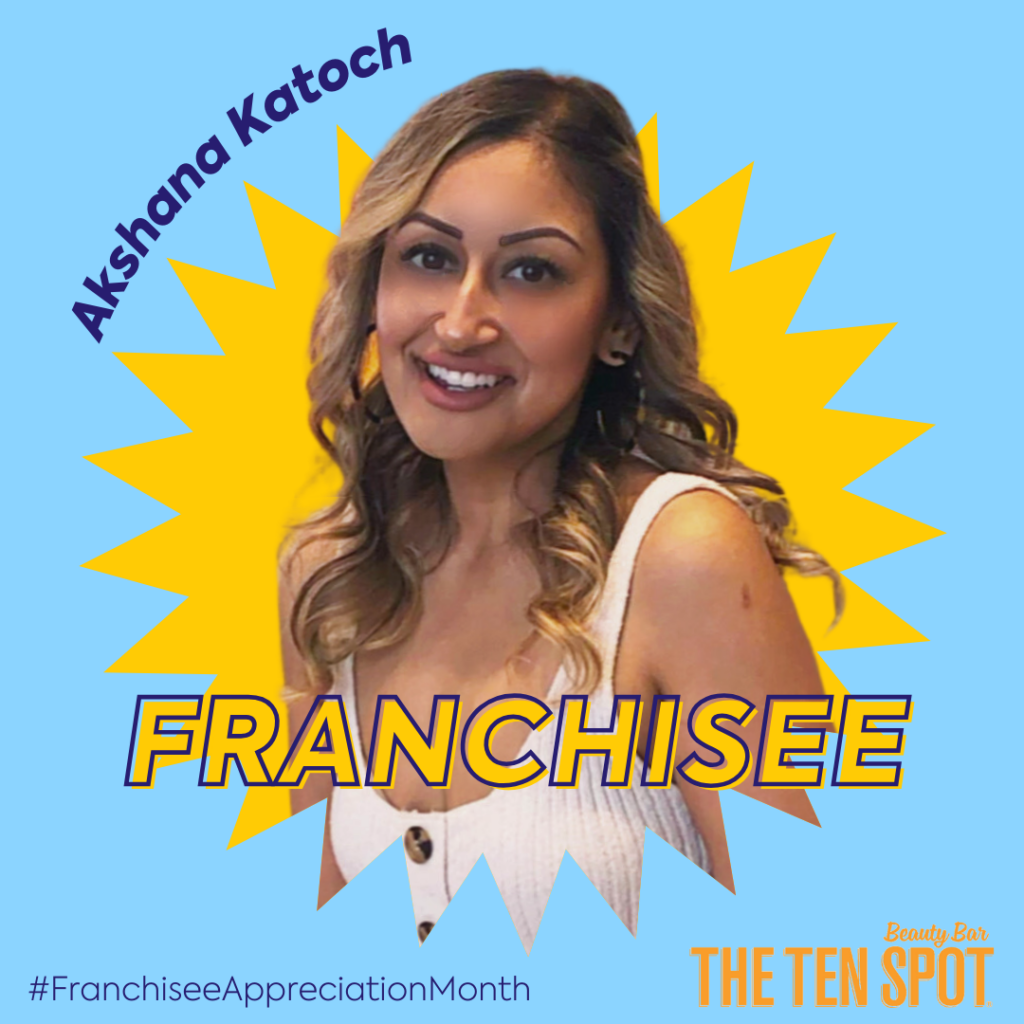 Meet the vibrant force behind THE TEN SPOT® Peterborough, our franchise partner extraordinaire, Akshana Katoch. Akshana has faced much adversity in her life and continues to inspire those who surround her with her perseverance and positive outlook towards life.
For many years, Akshana navigated the demands of corporate life, working in the financial sector. One thing that she always cherished was carving out time for her to maintain her beauty needs and to simply take a break from the chaos while getting her nails done. Small items like this helped her disconnect and re-energize so that she could be her best self.
Tragically, in 2017, a traumatic brain injury disrupted her path, rendering her unable to work or fully engage as a mother. This unexpected life detour prompted a pivotal decision—Akshana, alongside her husband and children, decided to relocate to Peterborough, a city that beckoned with its warm community, picturesque surroundings, and a chance for a fresh start.
Akshana felt the desire to build a life for herself in Peterborough. With a new perspective, she wanted to balance her family and personal needs while integrating her professional skills and desires. This is when she started to explore the world of franchising and decided to bring North America's largest beauty bar to Peterborough!
But why THE TEN SPOT®? Akshana already knew and loved the brand and felt an immediate connection. It was a brand with a mission to make clients feel confident in their own skin and feel like a ten®! —an ethos she resonated with deeply. THE TEN SPOT® seamlessly blends the corporate world with the realm of aesthetics, a perfect fit for Akshana's background and her aspiration to delve into entrepreneurship. The franchise offered her a well-documented blueprint, infused with the company's award-winning business model, all while allowing her to add her unique touch.
The journey wasn't without its challenges. Construction delays and the onset of the COVID-19 pandemic tested her resolve. But Akshana stood firm, drawing inspiration from THE TEN SPOT® core values and a relentless positivity. Fast forward one year since opening the bar and Akshana has expanded her team, growing from eight to 17 employees, offering extensive training and monthly coaching. She has been able to grow her business month over month while expanding her service offerings and creating a dedicated group of loyal customers.
The support offered by THE TEN SPOT® HQ team, helped support Akshana and her team at THE TEN SPOT® to give back to the Peterborough community, embodying the core values of both the franchise and its owner. Akshana's bar has engaged in various charitable endeavors, supporting Kawartha Food Share, participating in the Peterborough Butterfly Run, and contributing to One Million Meals.
Akshana's advice to potential franchisees is simple yet profound: "Becoming a franchise owner is a great option for someone interested in becoming an entrepreneur." It's a path paved with the support of a dedicated community, the guidance of a reliable franchisor, and the unwavering backing of a passionate operations team.
So, as we celebrate Akshana's dynamic journey, let's applaud her indomitable spirit, her dedication to the community, and the delightful partnership between THE TEN SPOT® and its enthusiastic franchisee. Together, they embody the essence of thriving entrepreneurship, where dreams and dedication converge into a remarkable reality.
Support local small business owners like Akshana! Treat yourself and book an appointment with your local THE TEN SPOT right here.