Poutine on Menu for Next Space Mission!
Ryan Smolkin, Chief Entertainment Officer (CEO) of Smoke's Poutinerie has a GLOBAL DOMINATION plan, to be in every city and every country in the WORLD! Recently, the World's Largest & Original Poutinerie has set its sights even higher… 2.3 million miles from Earth to be exact.
In anticipation of future missions to the Moon, to Mars and beyond; Smoke's Poutinerie is responding to NASA's 'Deep Space Food Challenge' and intends to be named as the FIRST EVER Poutine dish designed specifically for the next frontier! The Challenge: Harness the Power of Space to develop food production technologies that support nutritious and palatable food for long-duration space missions, while benefiting people on Earth.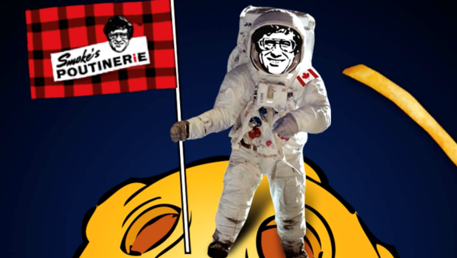 The term 'space food' generally paints a picture of freeze dried, dehydrated products, but Smoke's Poutinerie is about to shake things up by launching their globally recognized Poutine into space, loaded with Hand-Cut Fries, Squeaky Cheese Curds and Smoke's newly developed Zero-Gravity Gravy (talk about weightlessness… and benefiting people on Earth). "Our innovative Space Poutine was inspired by Smoke's love for 80s sci-fi… Star Wars, ET and Galaga…what's it going to be called?" Asks Ryan Smolkin, "We want our Fans to be involved in this once in a lifetime Experience… so we're asking Poutine Lovers around the globe to submit unique names for the Hot Mess that's headed out into the galaxy unknown, using the hashtag #SpacePoutine.".
Will this be another giant leap for mankind? We have just one question though, will cheese curds really squeak in space?!?!
About Smoke's Poutinerie
Founded in 2009 by creative genius and Chief Entertainment Officer (CEO), Ryan Smolkin, Smoke's Poutinerie is the World's Largest & Original Poutinerie. Representing 80's Canadiana culture, known for the signature lumberjack plaid, and glam rock music, Smoke's Poutinerie serves over 30 varieties of its famous Poutine. With locations across the Globe, expansion now focused on the Moon, Mars, Space Stations and Rockets everywhere.  GALACTIC DOMINATION!
For more information please contact:
Kristin Hansen | National Marketing Manager | Smoke's Poutinerie
khansen@smokespoutinerie.com | 289.927.7952