Best Food Franchises to Work with in Canada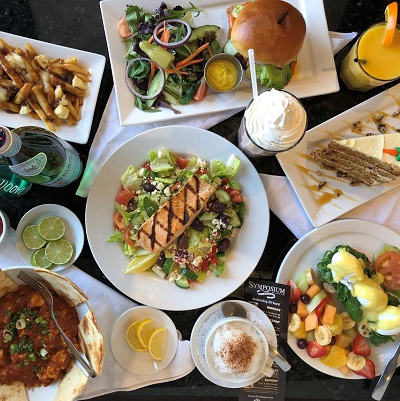 When you think of a food franchise, your mind likely gravitates towards the classic fast-food restaurant chain. In reality, there are several different types of food franchise opportunities for prospective franchisees, including full-service restaurants, cafés, and grocery stores, each sector ripe with opportunity for success-driven entrepreneurs. Last year, the market size of the full-service restaurant industry in Canada increased by 37.4 per cent, making more than $41 billion in revenue. Alberta's food service industry alone is projected to surpass the $10 billion mark for the first time in 2023.
There is no better time into to get into the food service industry than the present; if you've ever wanted to own your own restaurant, grocery store, or café, now is your chance! Franchising is the ideal option to leverage an established brand with a successful track record. With franchising, you can focus on what matters—making, selling, and serving that good food.
Food – Restaurants / Dining Rooms
A leader in the fast fine dining industry, Milestones Grill + Bar provides guests with a refined dining experience. Since opening its first location in Vancouver in 1989, Milestones has grown into a booming franchise with locations in British Columbia, Alberta, Saskatchewan, Ontario, and New Brunswick. With 22 restaurants and counting, Milestones wants to bring its celebratory atmosphere to the rest of Canada.
With a reputation for excellence, Milestones' franchisees can benefit from the brand's tried-and-true marketing approach and its coast-to-coast network of fellow franchisees. Investing in Milestones is an investment into a Canada-wide customer base, and the brand offers support in all areas of site selection, including leasing, construction, and design, as well as ongoing marketing, operations, and training support, prior to and after opening day!
Investment required: $2,000,000-$3,000,000
Food – Grocery/Speciality Shopping
Aisle 24 is a cashier-less, automated grocery shopping experience for the modern-day customer. Based on the concept of a convenience store, Aisle 24 adds a self-serve element. Customers create an account on the Aisle 24 app, which allows them to unlock the store, browse Aisle 24 for their grocery needs, and then scan and pay at one of the in-store kiosks.
Aisle 24 makes last-minute shopping easy, with locations conveniently placed in condos, apartments, townhouse complexes, and campus residences. Franchisees have the option to choose between two Aisle 24 models (the Community Market and the Resident Market) based on where they choose to set up shop.
Working with Aisle 24 is also a great opportunity for folks who prefer remote work. Aisle 24 franchisee David Thomas found that "the interesting thing about Aisle 24 is the technology; a lot of the tasks that I do can be done at home. If there are any issues, I get them emailed directly to me, and we have a really great customer service team that takes care of any technical issues."
With the added supports offered by the franchise, including site selection, store set up, training, and marketing, opening up your own Aisle 24 is as convenient as the concept itself.
Investment required: $120,000 – $220,000
Mandarin Restaurant Franchise Corporation
Food – Restaurants / Dining Rooms
As a major player among all-you-can-eat buffet restaurant franchises in Ontario, Mandarin is a standalone restaurant concept. For more than 40 years, Mandarin has opened the hearts of generations of customers with its carefully crafted fusion of Chinese and Canadian cuisine. Guests have long revelled in the abundance of choice offered by Mandarin's extensive buffet menu, all within a warm and welcoming familial atmosphere, complete with a beautiful koi pond at each location.
Joining the Mandarin franchise is an investment into a flourishing, esteemed brand tailored to suit patrons of all ages. With 29 locations and counting, becoming a Mandarin franchisee is a ticket to success with a secure and dependable brand.
Investment required: $3,000,000
Food – Baked Goods / Coffee / Donuts
Since opening its first location in 2016, Maverick's Donuts has become a staple of central Ottawa. A true maverick of the donut world, the brand grew beyond Ottawa's downtown core and into suburbs, where it experienced extreme growth. Clearly, franchising was the right move for the brand is and still is—Maverick's now has 22 locations and counting across Ontario, Alberta, and even South Carolina!
Just ask Nichole Lemon—who co-owns a Maverick's location with her partner Camden Scott in Barrie, Ontario. Lemon worked with Maverick's' founders in Ottawa, so she's seen it grow from one store to a national franchise. "The franchise system is growing rapidly," Scott says. "We want to build the business. We love the product; we love the company."
With a wide-ranging menu of donuts, fritters, and coffee that is loved across the board, Maverick's Donuts comes with a built-in, beloved product. Maverick's Donuts will also provide you with the training and support to set franchisees up, and provide guidance on all aspects of operations, marketing, and bookkeeping.
Investment required: Inquire
Food – Restaurants / Dining Rooms
As Ottawa's largest craft brewery, Big Rig Kitchen & Brewery makes sure to deliver on its growing selection of artisanal beers and comfort food favourites, building a devoted clientele throughout the last decade. Shortly after its founding in 2012, Big Rig Brewery won multiple Canadian and Ontario Brewing Awards, including "Brewery of the Year in Ontario" in 2013. As Big Rig Brewery continues to expand into the Greater Toronto Area, the franchise's innovation and creativity make it one to watch in the brewery market.
Big Rig Brewery's homegrown concept makes investing a unique opportunity, as franchisees have the chance to take part in the brand's plan for expansion across Ontario and play a part in the franchise's growing notoriety. Those interested in joining the award-winning franchise are welcomed with a variety of resources, including site selection and leasing support, and assistance with design, training, marketing, and operations.
Investment required: $1,000,000-$3,000,000
Food – Baked Goods / Coffee / Donuts
BeaverTails is a baked goods franchise built upon innovation. Known for its classic hand-stretched pastry, BeaverTails has taken its signature concept and built an international franchise with over 170 locations worldwide. 40 years later, BeaverTails continues to innovate with a recent expansion of its
menu to include ice cream, lemonade, new signature BeaverBites, and an iconic Canadian staple: poutine.
With something for everyone, the updated menu led a vast expansion project, opening six new locations in Ontario this year alone. As winners of multiple CFA awards, including CFA Franchise Choice and the Hall of Fame Merit Award, BeaverTails is a reliable franchise with a history of forward-thinking, success, and a proven growth rate.
Mark Mebs, who started out by owning a single BeaverTails store in Victoria, B.C., now owns three franchise locations. "Every day I get to be involved in a franchise that helps to put smiles on people's faces," Mebs says, a testament his own personal growth as part of a successful brand.
Investment required: $150,000 – $500,000
Food – Grocery/Speciality Shopping
For more than 40 years, the M&M Food Market has been on a mission to provide its customers with 'real food for real life,' as per its long-time motto. Delivering on its promise, the Canadian brand is known for its reputation as the only national food retailer with no artificial colours, flavours, or sweeteners in any of its products. With 1,200 locations across Canada and more than 2,000 locations selling M&M Food Market products, the brand's healthy approach to the grocery store market has earned it a dedicated, national customer base.
M&M Food Market is a great option for those looking to buy into a successful, Canadian-founded brand. Christina Macri, who has been an M&M franchise partner since 2011, says she joined the store because she "believed in the concept." Her admiration for the brand grew proving to her that this was a commitment she could count on.
With franchisees opportunities in Ontario, Quebec, Saskatchewan, Alberta, British Columbia, New Brunswick, and Nova Scotia, franchisees can bring M&M's longevity and the promise of healthy living to their communities no matter where they are.
Investment required: $100,000 – $500,000