The franchising industry provides opportunities for business ownership for entrepreneurs from across races, genders, and classes. Diversity and inclusion are becoming increasingly important, especially in the medical aesthetics field, where skin is literally and figuratively under the microscope. Here, Jenna Caira, Head of Franchise Recruitment for Laser Clinics Canada, shares why diversity and inclusion is vital for the growth and success of a business and what her brand is doing to push the industry forward.
Responses have been edited for length and clarity.
What diversity and inclusion policies/programs does Laser Clinics have in place? How does Laser Clinics work to attract and onboard diverse franchisees from all walks of life? Do you do any targeted marketing for example? How do you get exposure for your brand and opportunities, how would a new Canadian know about a franchise co-owner opportunity?
The medical aesthetics industry is predominately female-driven, and this is also true within our organization, from the support office and clinics to our executive chair for Laser Clinics Group. Beyond brand leadership, our group's franchise co-ownership model has been an effective pathway for many women to become business owners. Across our various markets, in fact, a diverse group of entrepreneurs have partnered with us — some with multiple clinics — to earn and exercise leadership in their local trade areas and communities. Diversity also lives in our brand through our campaign imagery as well as our colour palette, representing the beautiful assortment of skin tones within our society.
In our clinics, our mission is to deliver the results our clients desire. By offering complimentary consultations, our experienced medical aestheticians assess the client's skin and hair type to then tailor a treatment plan based on the individual's needs and beauty goals. No two clients are the same and that's why we tailor every solution for every client. All our advanced technology treatments and high-quality products are inherently tied to different life stages due to changing needs over the course of our client's lives, that's why we say, "Beauty Tailored to You."
With this mission in mind, we attract diverse franchise co-owners through different outlets — in- person clinic experiences, social media, networking events, magazines, newspapers, and more. We also ensure we're accessible by having our clinics within malls so prospects can visit us, as well as participating in the largest Canadian franchise expos, including Toronto Franchise Expo, the Franchise Canada Show, and the Vancouver Franchise Expo.
What sorts of backgrounds do Laser Clinics' franchisees come from?
Laser Clinics operates in four continents and embraces all diverse cultures and backgrounds.  While it's an asset for a franchise co-owner to have a medical aesthetics background, we have also welcomed many Laser Clinics franchise co-owners who started in different industries such as IT, finance, academia, accounting, banking, and retail. Some franchisees started internally as medical aestheticians and are now co-owners. We welcome any candidate who carries a passion for beauty and helping clients reach their desired results.
In our Laser Clinics policies, we explicitly state that we have zero tolerance for excluding others. As Canadians, we are a very diverse country, and we celebrate all the different backgrounds whether it's a franchise prospect or a client coming in for a treatment.
Do you provide any additional support or training for franchisees with unique experiences (ex. new Canadian immigrants or younger business owners)?
Once a franchise co-owner is approved, Laser Clinics starts with a standard induction and, based on our franchise co-owner's skill set, we build a customized training program for each franchise co-owner. We ensure that all of our franchise co-owners are set up for success, understanding the business from theory to in-clinic processes, and receive ongoing support from the global and local support team. This is all done before opening the clinic's doors.
How does Laser Clinics ensure that its hiring practices are as inclusive as possible?
Laser Clinics is an equal opportunity employer. This means our employees and prospective franchisees compete equally for recruitment, selection, training, promotion, and transfer opportunities. We apply the principles of equity and fairness in deciding the best person for a job and providing appropriate development once they are chosen.
Why is diversity and inclusion in franchising such a great concept, from a business perspective? Does diversity contribute to business success?
Laser Clinics Canada's goal is to create a professional, safe and welcoming environment for anyone entering our doors. We ensure that our locations are easily accessible for those who require additional support, which is why we have wide spaces and accessible washrooms. Many of our medical aestheticians have diverse backgrounds and can speak different languages. Laser Clinics views this as a great asset because we can help connect with more clients, especially those who are newcomers to the country. Our brand identity represents the diverse nature of our global organization, as our business mantra is, "Beauty Tailored to You". In addition, our industry leading medical grade technology can target a variety of skin tones to help more people that in the past could not.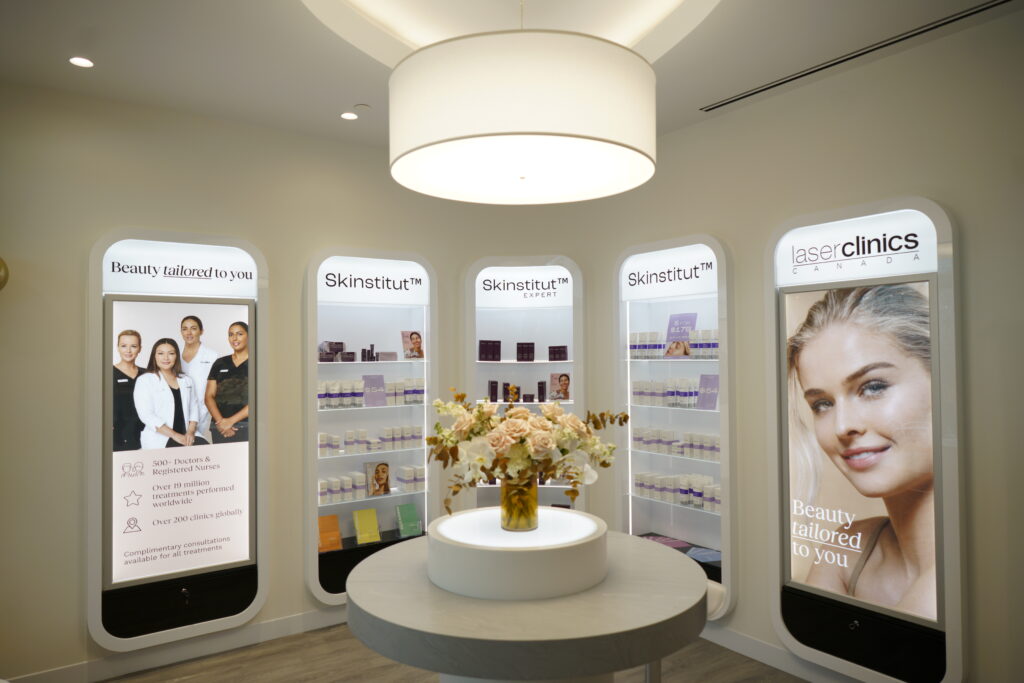 Why is franchising the right choice for entrepreneurs looking to start their own business in 2023?
Franchising allows entrepreneurs to join a system that's been tested, with protocols and guidelines in place, and geared for success. Laser Clinics Canada brings a unique 50/50 model where we share equally in the investment, the expenses, and the profits of the clinic. There's a lower financial risk being part of our brand as we are in it together.
Laser Clinics Group has 15 years of franchise experience internationally and is the global leader in medical aesthetics treatments and services with over 200 clinics worldwide. We entered Canada in February 2022 and have already opened four locations in the Greater Toronto Area with national expansion plans underway. Our business is ready and excited to meet diverse people who are passionate about beauty and are motivated to make this business thrive in Canada by helping more clients look and feel their best.
What advice do you have for prospective franchisees who are considering getting started now?
First and foremost, a franchise co-owner must be prepared to put in the time that the business needs in order to succeed. This starts by thinking about why you want to own a business. Your "why" is what keeps you focused as a business owner and on track to building a successful enterprise. Having a passion for a particular industry is important, but to remain a long-term franchise co-owner requires determination, and a focus on the ultimate client experience. We welcome and encourage prospects to come into our co-ownership opportunity with an open mind and feel excited to embrace our business values through their work and leadership.
Why do you think it's important for people from all backgrounds to get into franchising?
It's important to have people from diverse backgrounds in our franchise community because our customers are equally diverse. We have customers from many different backgrounds, and they have their own unique needs — a diverse franchise community understands the diverse community we serve.
This begins with welcoming people from all backgrounds to pursue franchise opportunities with the brand. We select the best franchise candidates who are aligned to our values, have the best business acumen, leadership skills, and passion for this industry to help make our clinics successful. Our 50/50 business model illustrates that our commitment is mutual, and we provide our franchise co-owners with in-depth training and on-going support as needed, including diversity and inclusion considerations.