By Kym Wolfe
Starting a business always carries some element of risk, but joining a franchise system means having a path to follow and the support of a proven system. That's why, for people of all backgrounds, franchising is an ideal way to follow the dream of owning your own business. Joining a franchise system has allowed the four franchisees featured here the freedom to work for themselves. For some, it's been part of making their home as a newcomer to Canada; for others, it means forging a path of representation as a minority in the industry. These thriving franchisees show success comes from passion, hard work, and a supportive franchise system.

Brioche Dorée
Reza Ardestani always wanted to work for himself, and when he immigrated to Canada in 2008, he found an opportunity to do just that. "When I came to Canada there was a recession, people were being laid off, and newcomers with no Canadian experience were having trouble finding work," says Ardestani. Rather than work as an engineer as he had in Iran, he decided he would own and run a coffee shop. His initial years were financially successful ones.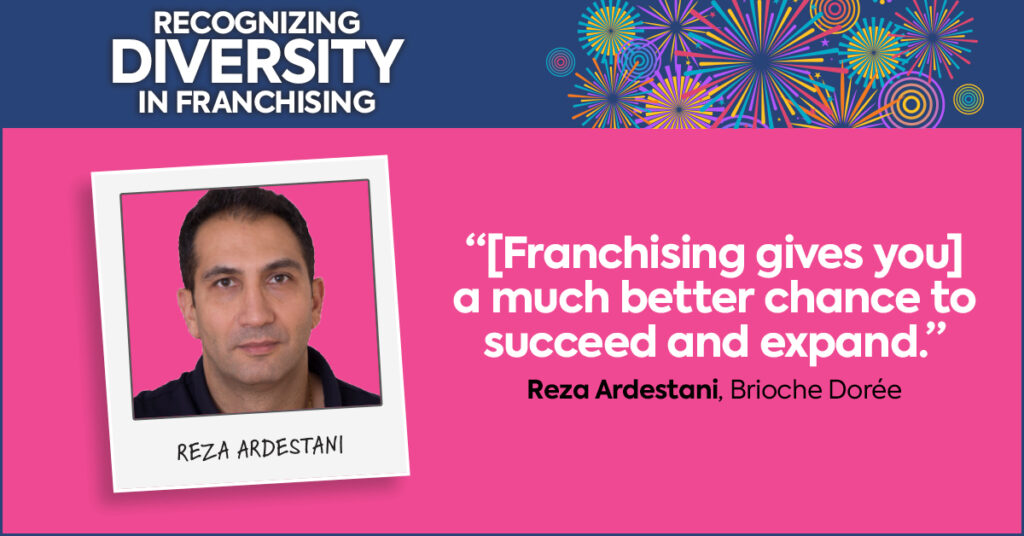 Then the Parisian bakery café Brioche Dorée arrived in Toronto. "I had seen the franchise in Europe and liked its products," Ardestani explains. He purchased a franchise in 2018. "They're an international company, with 40 years of experience, the royalties are reasonable, and they provide good support."
Following two weeks of intensive training, Ardestani opened his Brioche Dorée in an office tower at Yonge St and Finch Ave, near Finch subway station. Initially, a training manager walked him through all aspects of daily operation. "The company is very helpful, and I have access to all of their support," he says.
It was a busy location, sales were steady, and there were no major challenges to deal with—until COVID-19 arrived.
The pandemic has hit his businesses hard. "A lot of stores around us are now empty, sales were down 80 per cent at one point, and we've been drawing on our savings to keep our doors open," says Ardestani. "In October and November 2021, people started to come back, and we were very hopeful." But renewed restrictions imposed in January left him feeling less confident. "I'm not sure that there will ever be the numbers working daily in these areas that there were before."
In 2021, a Bay Street storefront that Ardestani owned and rented out to another business was vacated. Rather than let it sit empty ("I had to pay the mortgage anyway," he notes), Ardestani decided to open a second Brioche Dorée in that space.
Despite the challenges of the pandemic, Ardestani recommends the franchise route to business ownership. "You definitely reduce the risk of failure and have a much better chance to succeed and expand," he says. As for his advice to people who are considering a franchise: "Be smart and use the knowledge and experience that other people have gained through the years of establishing a successful chain, and be a part of that success."

MaidPro
While Mamad Saeedi worked in project management, both in Iran and after immigrating to Canada in 2005, he always had a goal of owning his own successful business. He explored a number of opportunities before choosing to purchase a MaidPro franchise in 2019.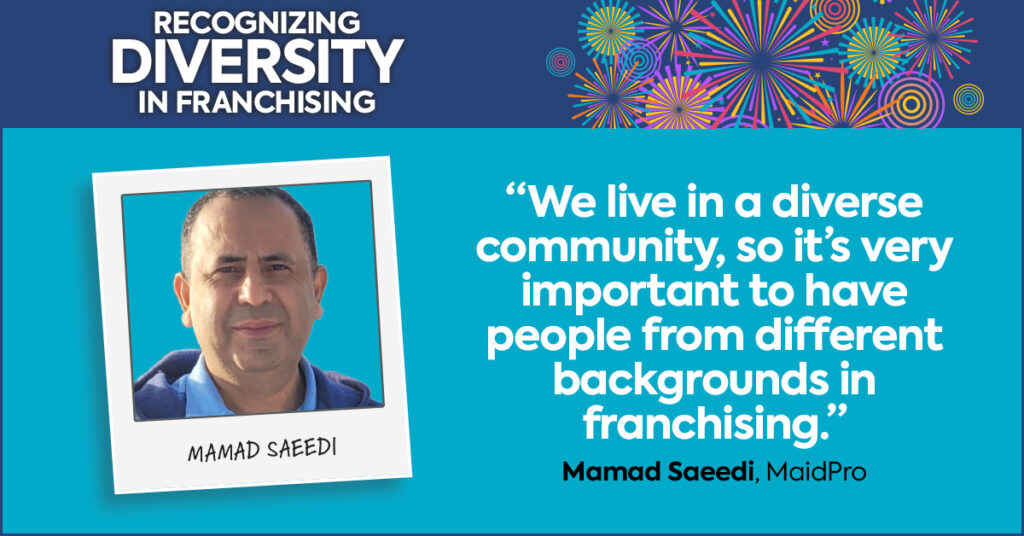 "When compared to the ground-up individual-owned business model, a franchise offers a proven success model," he says. He was looking for a franchise concept that fit with his goals and values, and that led him to a cleaning service. "When people have a clean living space they feel better, and I like working in a business where you can instantly see the results of your work." He picked MaidPro because "it has always been the best in class in cleaning services."
Opening just before the pandemic proved to be both challenging and fortuitous. "After a short period in lockdown, we were deemed an essential business," says Saeedi. "Our job as a cleaning company is to clean homes, but at the same time, we sanitize and disinfect high touch areas with our hospital-grade cleaning supplies that provide a deep disinfecting cleaning. We managed to survive with a few commercial and mainly residential clients. People realize we're here to make their homes safer."
Saeedi's high standards and hard work garnered his MaidPro Waterloo location the award for best home cleaning service by Quality Business Award in 2021, and it was recognized as one of the Three Best Rated companies in 2021.
Saeedi credits MaidPro for giving him excellent training and support, beginning with full in-person training at MaidPro headquarters in Boston, and continuing with scheduled coaching calls, support for marketing, and a very structured system to follow. He notes that MaidPro has received the Canadian Franchise Assocation Award of Excellence and says, "MaidPro is one of the best franchises in both peer-to-peer support and also franchisee and franchisor relationships."
Saeedi has this advice for people who are exploring franchise opportunities, including newcomers to Canada: "Anyone who wants to be successful in business should always work hard and believe in their heart that they're giving the best-in-class service to all members of their community. We live in a diverse community, so it's very important to have people from different backgrounds in franchising."

Osmow's
Celine Ma says she fell in love with Osmow's Mediterranean food the first time she tasted it. "I love the taste, especially the sauces. The first time I had it, I applied for a franchise the same day!" Today, as an Asian-Canadian business owner, she owns two Osmow's locations, and her goal is to open more.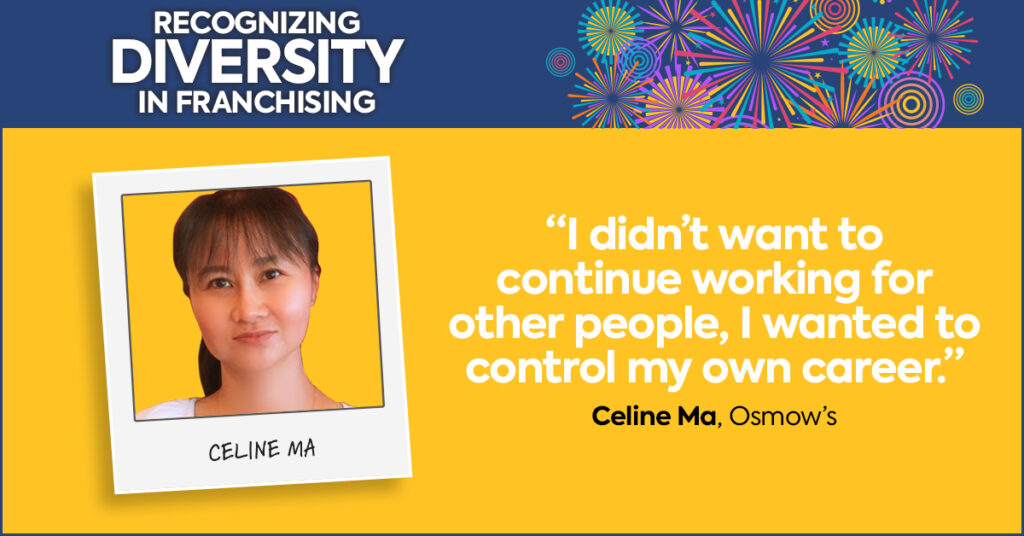 "I have an accounting and business background, and had no restaurant experience prior to being a franchisee—other than being a waitress when I was at university, but that was totally different than owning and managing a QSR restaurant," she explains. "I always wanted to run my own restaurant. I didn't want to continue working for other people, I wanted to control my own career. One of the benefits of franchising is the business assistance, training, and support we receive."
Celine says the key factors to her success are her staff and her locations. "I'm not a micro-manager—I didn't like it when I was an employee, so I treat my employees the way I would like to be treated."
After success with her first Osmow's location, she opened a second one. "My second location is close to Lakeshore Humber College—that was a big risk during the pandemic, but I believe it will pay off."
Celine says she's experienced challenges with being a female business owner. "Sometimes people don't take me seriously or treat me in a condescending manner." Working with third party contractors or vendors in male-dominated industries can be a challenge. However, she notes, "I've always believed that as long as I try my best and ignore the negativity of others, I can be successful. I always look for a second—even third—opinion, and leverage the support provided by Head Office." She encourages more women to get into the franchise business.
Her advice to potential franchisees? "Persistence and hard work. There may be times when you want to give up. However, before you do that, determine the reasons you wanted to get into franchising in the first place. I'm glad I persisted, because look at the outcome!"

UCMAS Mental Math
Before coming to Canada nearly 30 years ago, Swati Shah was a teacher in India, so owning a math tutoring franchise has in some ways brought her full circle. Nine years ago, she was at a crossroads in her career, and having seen the positive effect UCMAS had on their daughter, Shah and her husband decided to purchase a franchise in Brampton.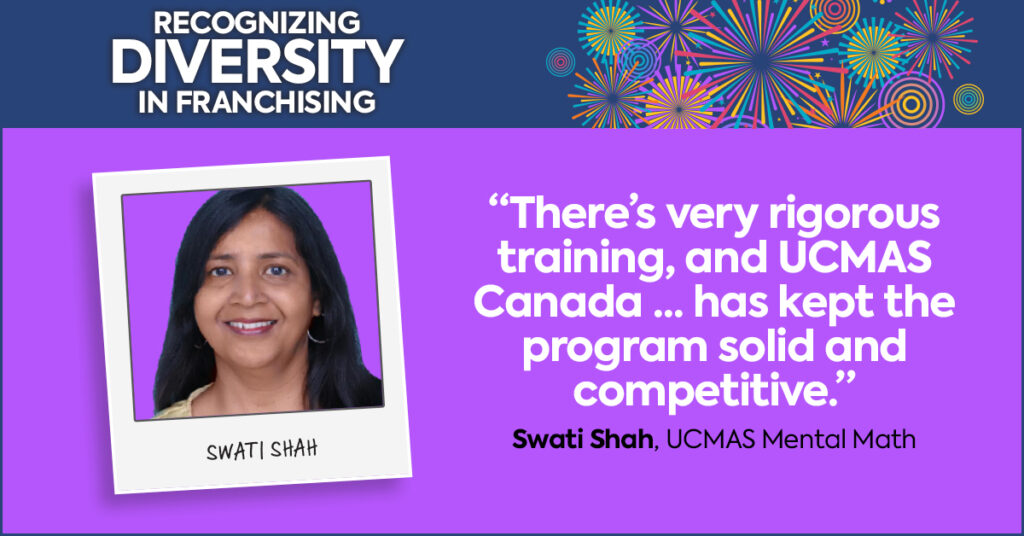 UCMAS uses the abacus method to teach math as well as foundational learning skills to children aged five to 13 years old. Swati says she felt that because UMCAS had done market research to identify the target audience, and laid out a path for franchisees to reach those potential clients, "we would have a better chance of success."
Shah believes in the UCMAS program, which she says caters to the all-around development of children and helps them reach their full potential. Typically, a student will spend three to four years with UCMAS, and some return to be instructors and mentors with the program.
New franchisees need not have a background in education, she says—but more importantly have "an eagerness to learn something new, and a nurturing spirit and the ability to relate to children. There's very rigorous training, and UCMAS Canada has invested in ongoing research and development which has kept the program solid and competitive. Franchisees and course instructors are offered ongoing training to keep their knowledge base current."
Demand was so high at their first location that the Shahs opened a second location in February 2020— right before the pandemic. The franchise was able to quickly move lessons to an online format while maintaining the integrity of the program, says Shah. Although UCMAS has now reopened at 50 per cent capacity, many parents prefer to continue their children's lessons online. "This is meant to be in-person tutoring, and one-on-one interaction is important, but franchisees have been able to stay afloat with tools and technology, such as software that made it possible for our students to appear for tests and annual competitions from the safety of home."