By Gina Makkar
Franchising allows hard-working entrepreneurs to achieve the goal of owning a business, regardless of age, culture, or gender. For these four inspiring women, founding a franchise system was both a way to spread their vision and help this goal of business ownership come true for others. The forward-thinking female franchisors profiled here work in a variety of industry categories, from health and beauty to food service, and run franchise systems of different sizes. But in each, diversity plays a fundamental role in fostering franchise success.

Foxy Box
Self-care soothes the soul, and a beauty routine can help reduce stress, anxiety, and depression, while increasing self-esteem, energy, and productivity.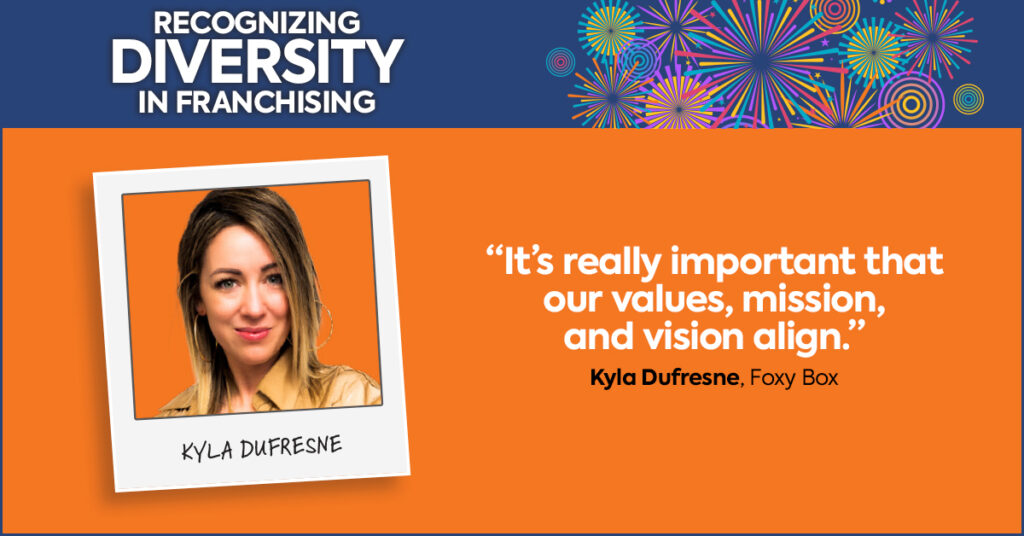 When Kyla Dufresne first started Foxy Box 10 years ago, she put herself through aesthetics school while bartending, and began offering services in the dining room of her shared home. "Bartending was a great platform to market my budding business. Everyone that came into the bar had a Foxy Box card in their pocket when they left."
The brand began franchising two years ago, recently establishing roots in Toronto. It hasn't been without its growing pains. From testing out full-service menus to trial and errors in her first partnership, Dufresne has learned a lot. "We do one thing and we do it well, and that's hair removal."
When the first partnership didn't go as planned, Dufresne took the opportunity to pause, regroup, and work with a franchise coach to systemize her process before franchising again. "At this stage, I think we're over-prepared because of all my learning. I call it my Harvard education! I learned so much from that."
Dufresne says diversity and inclusion is part of the brand fabric. Recently, they've eliminated gender identifications from their language. Services labeled male and female were removed, and instead of terms like 'Manzilian,' the Brazilian service is sold in two different blocks of time (20 and 40 minutes) to cater to all genders.
As they continue to grow, they've also adopted environmentally responsible practices, becoming a Green Circle Certified Sustainable salon. Up to 95 per cent of waste is collected and shipped to Green Circle partners to be recycled, recovered, or repurposed. Each Foxy Box also looks and feels a little different, as they salvage and reuse as much as they can, keeping waste out of landfills and waterways.
During the pandemic, the launch of a Shopify store helped establish and maintain a presence. The 'Make a Sister Smile' campaign offered daily giveaways, and a $25 gift card was donated to a nurse with the purchase of every package. All helped create a solid foundation that reflect the company's core values.
As a young franchise, Dufresne says Foxy Box is still learning about the talent they want to attract, but it's paramount that franchisees align with the brand culture. "Energy is contagious and will carry us through or be a detriment to us, so it's really important that our values, mission, and vision align."

Good Earth Coffeehouse
Many people drink coffee every day, and this habit has a long history. For centuries, people around the world have made connections, shared ideas, and strengthened community all over a cup of joe.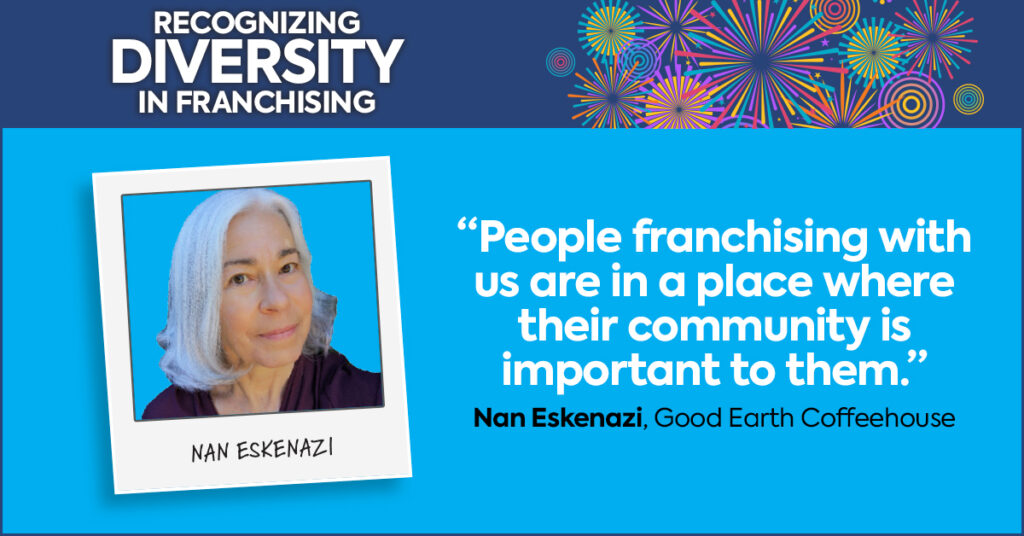 For founder Nan Eskenazi, Good Earth Coffeehouse evolved from values, lifestyle, and a love of socially and environmentally responsible food and coffee. "It's more about being in a coffeehouse and engaging with other people," says Eskenazi.
Her sister owned a coffee shop, which gave her an understanding of what she was embarking on in the early days. "I also had a supportive partner. It allowed me to set a good foundation for the business and focus on steering the brand and see how it was resonating."
Eskenazi says that while women display a level of sensitivity and intuition when engaging with others, she feels her business model resonates with partners, couples, and families that enjoy working together as they develop their lifestyle. "Coffee houses are very community-driven. People franchising with us are in a place where their community is important to them whether it's raising a family or establishing connections, and a coffeehouse is a natural extension of that."

Franchise partners hail from countries all over the world, whether they're newcomers or have been in Canada most of their lives. Coffee houses are synonymous with social engagement, and are part of the fabric of many cultures and societies, so Good Earth Coffeehouse is a concept that's often familiar and rings true, regardless of culture.
The brand draws professionals that are committed to community and align with the social and service-oriented aspects of the business. Multi-unit opportunities are open to prospects with business experience looking for a larger investment. The concept is easily adapted to community and hospital environments for plenty of opportunity to expand.
Eskenazi's lesson for success? "It's important to be yourself and to have what you do really align with your personal worldview and values. I think that if you can tap into that when looking for a franchise, and you're thinking about making a shift and owning and operating a business, it's important to feel good about the brand's business model and impact."

Little Kids Daycare Center
In a child's eyes, whether it's building a block tower or finding buried treasure on a walk in the park, every day is a celebration. President Debbie Cunha loved her career as a child and youth worker, but long hours on-call soon became draining. As she was debating returning to school, her mom, Dina, opened the first Little Kids Daycare Center in 2002. Cunha decided to join her. "Going into childcare, there wasn't a feeling of impending doom. The reality in my old role was that I lived by my beeper. It was just so happy, and the kids are so joyful. What's better than happy toddlers?"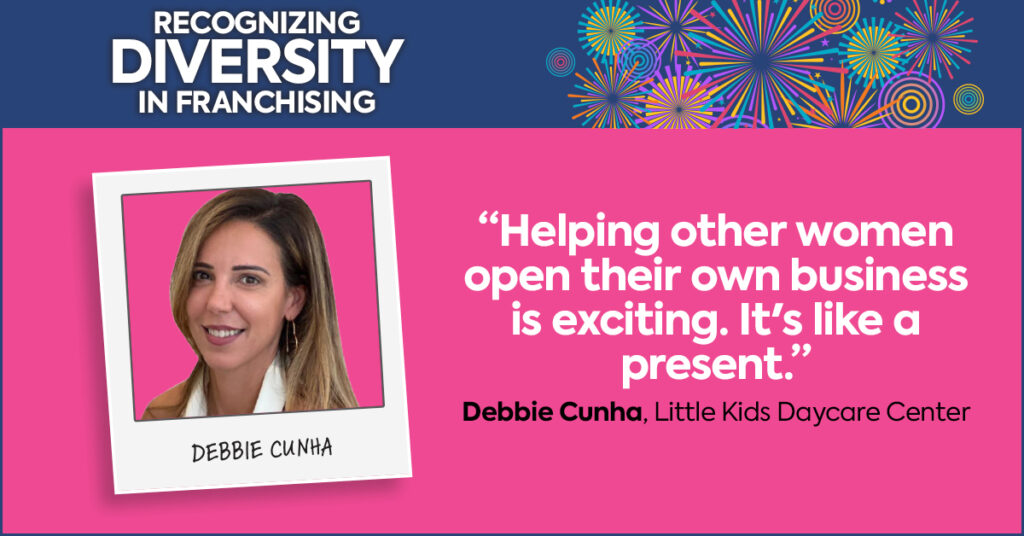 Cunha purchased the business from her mom in 2010. Since then, she's helped other female entrepreneurs get their own centres up and running. "I've been in childcare for almost 20 years, and helping other women open their own business is exciting. It's like a present. New location, new kids, new community—it's so much fun."
Fueled by the success, Cunha decided to take a more systematic approach and officially started franchising in 2020. Though there's a great deal of interest, she's still working to secure the first franchisee. "You don't want the wrong people getting into this industry. They must be emotionally invested. By being difficult to get into with financial and government requirements, it means that the people that pass these tests are the people you want running daycares."
Since daycare legislation differs provincially, Cunha has focused her expansion on the Ontario market, which will allow her to seamlessly manage the intricacies of opening a daycare while staying close to her family. "It takes months to figure out how to run a centre, and I want to give franchisees an abundance of support and communication. I want to be there with them."
In an industry where women and diversity are celebrated, Cunha says networking and collaboration are vital. She connects to other female business owners on forums where she can be vulnerable and share difficulties. Perspective franchisees with a strong, hands-on work ethic and love for kids and families are poised for success. In fact, Cunha says many diverse cultures with strong ties to family that celebrate children are a great fit. "These are the people that will come in as a franchisee and look at those children as an extension of their own families."

The Lunch Lady
Food is comfort, so it's not surprising that our fondest childhood memories often include our favourite foods. When founder Ruthie Burd's son was diagnosed with autism as a child, she wanted to secure a flexible career that would allow her to attend his therapies. She started The Lunch Lady, a service that would provide wholesome, freshly made lunches to schools, and began franchising in 2001.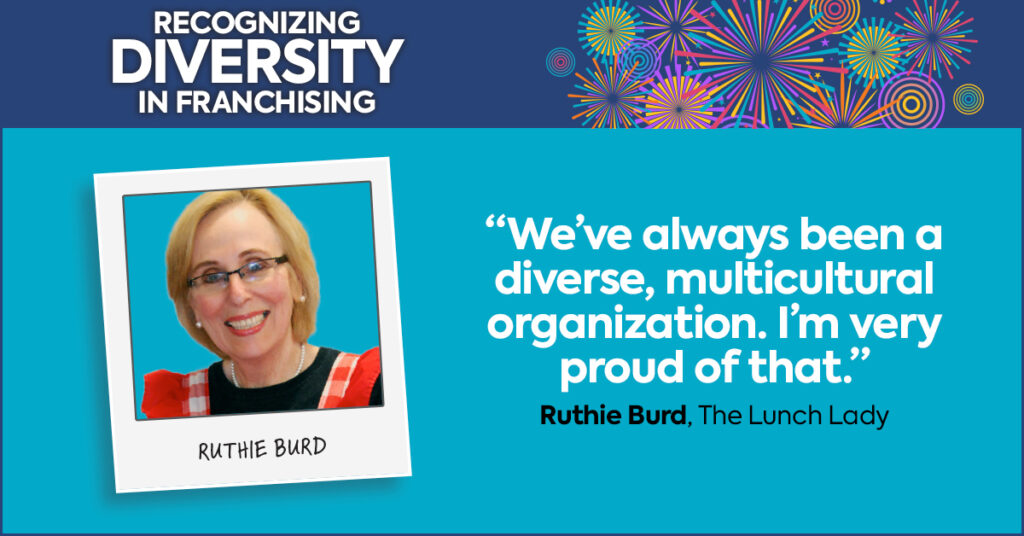 "I thought maybe there's other women out there that would like the kind of lifestyle that I have, where I'm working hard but I'm working around my son's therapies and my family obligations," she says. "Because how many choices are there really out there for women? That was one of my strongest motivations at the time."
Though most franchise partners are women, there are also a few 'lunch guys' onboard. "We've always been a diverse, multicultural organization. I'm very proud of that. That hasn't changed." For Ruthie, key characteristics of success, like tenacity and resilience don't have a gender, and The Lunch Lady opportunity is attractive to those looking for a brand rooted in diversity. "I also believe that because many of our franchise partners have come from other countries, they've already been though some challenging times of their own, and have a lot to offer."
Building a community and culture is a part of the DNA that has kept Ruthie moving through the last 28 years. "I've been through good times, bad times, happy times. It's just the ebb and flow of business."
As a member of the Women Presidents Organization, she suggests all female business owners find a business group where they can gain a sense of community in a safe, secure environment. "There are days when things scare you, but to be in a trusting environment where you can vent to your fellow sisters in the group can make a huge difference."
Ruthie's advice to anyone looking to invest in a franchise is to talk to the people within the organization and get a sense of the culture. "Be clear about what your motivation is to start a business. Do you want to build a brand? Want to make money? Build an asset to sell? All these goals are valid and will direct you to the right kind of organization where you want to hang your hat."