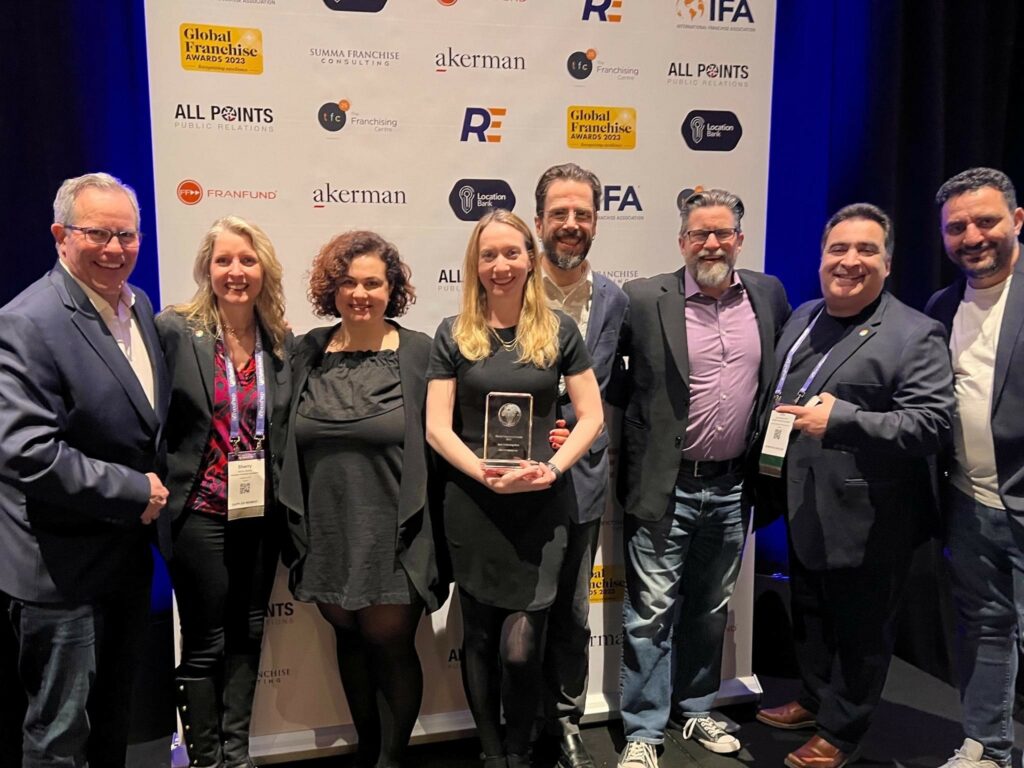 Canadian digital marketing agency and long-time CFA member Reshift Media has been named the Best Franchise Marketing Firm at the 2023 Global Franchise Awards. Companies from around the globe competed for the honour, judged by an esteemed international panel of franchising executives and industry experts. Reshift Media was awarded the coveted distinction at the Global Franchise Awards ceremony on February 25, 2023 in Las Vegas, Nevada.
Based in Toronto, Reshift's work with franchise systems spans over a decade. The company has developed digital marketing strategies, processes and technology used by more than 200 franchise systems in 20 countries. From social media and search to digital design and website/mobile development, they have generated exceptional results for their franchise clients and are a passionate advocate for the franchise community.
"We are humbled and flattered to be receiving this prestigious award," said Steve Buors, CEO of Reshift Media. "The credit goes to our incredible team and the amazing franchise organizations we work with. We would also like to thank the CFA for their partnership and support."
As a leading service provider for the franchise industry in Canada, many of Reshift's clients are active CFA members. The agency won the CFA's Franchise Supplier of the Year award in 2019, which is given to only one supplier each year.
The company is a 10-year national sponsor and has supported a number of CFA events over the years. Reshift's Chief Operating Officer, Kirk Allen, volunteers his time on the CFA's Board of Directors, and other Reshift team members have volunteered on several committees. In addition, Reshift has hosted dozens of webinars and in-person sessions where they share franchise digital marketing best practices and innovations. The company has also proven to be a strong advocate for franchising in Canada, supporting a variety of valuable initiatives, including #franchiseawareness events.
Reshift has worked directly with the CFA on a number of projects, including running social media and search campaigns, building the Look For A Franchise directory (https://cfa.ca/lookforafranchise), and providing technical support for the CFA website (https://cfa.ca/).
"Reshift is very deserving of this award," said Sherry McNeil, President & CEO of the CFA. "They have been long-time supporters of franchising in Canada, and are known for coming up with new and creative solutions to help franchisors and franchisees."
In honor of their new award, Reshift Media is offering all CFA members a free review of their website, search optimization or social media presence. Please click here to learn more.