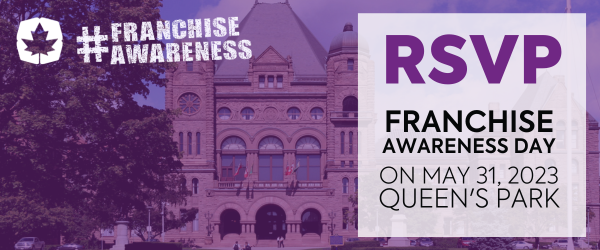 ---
Government announces lower credit card transaction fees for small businesses
Small businesses pay fees to process credit card transactions, with the largest component being the interchange fee paid to credit card-issuing financial institutions, such as banks. These new agreements will help more than 90 per cent of credit card-accepting businesses in Canada qualify for lower rates and see their interchange fees reduced by up to 27 per cent from the existing weighted average rate. These reductions are expected to save eligible Canadian small businesses about $1 billion over five years.
---
CFA'S ADVOCACY PRIORITIES FOR 2022-2023
CFA WIN! Changes to the Canada Small Business Finance Program are now in force
After several years of advocacy, the CFA has been able to get several changes to the Canada Small Business Finance Program to better help franchisors and franchisees. These changes to the Canada Small Business Financing Regulations came into force on July 4, 2022.

---
RELEVANT NEWS
The following news articles are available for members only. If you wish to access these articles, please join as members. For more information, visit the membership page.
Ontario Expanding Safety Training and Resources to Keep Workers Safe
The Ontario government is investing an additional $12.5 million in Ontario's six health and safety associations, which provide safety training and resources to businesses and workers across the province. READ MORE
---
BoC highlights risk of bank sector stresses, high household debt
In its annual financial system review, the central bank said it is more concerned than it was a year ago about the risks posed by that debt. READ MORE
---
Moving Forward with Building a Strong Ontario
Bill 85, Building a Strong Ontario Act (Budget Measures), 2023, has been passed, advancing the government's plan to grow the economy, build key infrastructure projects, and support businesses, families, and workers in every corner of the province. READ MORE
---
Ontario Announces Intent to Dissolve Peel Region
The Ontario government introduced the Hazel McCallion Act, which would, if passed, begin the process to dissolve the Regional Municipality of Peel and make the municipalities of Mississauga, Brampton and Caledon independent. READ MORE
---
Next week's minimum wage hike falls well short of a living wage in BC
The minimum wage is set to jump from $15.65 to $16.75 per hour on June 1, but it falls well short of a living wage in Metro Vancouver, which is $24.08 per hour. READ MORE
Ontario Removing Unfair Work Barriers for Skilled Newcomers
Professional Engineers Ontario (PEO) are the first regulated profession to remove Canadian experience requirement following provincial legislation. READ MORE
---
Financial System Review—2023
Over the past year, financial conditions have tightened globally in response to monetary policy actions aimed at reducing inflation. READ MORE
---
Bank of Canada and inflation: What the latest data could mean for interest rates
April's higher-than-expected inflation figures suggest further rate hikes by the Bank of Canada might not be out of the question, experts said. READ MORE
---
Posthaste: Bank of Canada needs to 'crush' inflation with another rate hike, Scotiabank economist says
An unexpected resurgence in inflation has markets eyeing interest rate hikes again, with at least one economist arguing there is a case to be made for the Bank of Canada to act as soon as its next meeting on June 7. READ MORE
---
Bank of Canada interest rate remains firmly data dependent
Governor Tiff Macklem spoke at the Toronto Region Board of Trade about the BoC's openness to hiking rates again, contingent on financial stresses expediting the central bank's 2-per-cent inflation target. READ MORE
---
ADDITIONAL STORIES OF INTEREST
Government of Canada awards over $3 million for projects to protect and empower Canadian consumers | May 24, 2023
Government of Canada invests $5.6 million in La Factry skills training initiative for new Canadians | May 23, 2023
Mortgage debt a 'ticking time bomb' as renewals come up, economists warn | May 18, 2023