November 2, 2023

Canada Digital Adoption Program
Technology and the pace of change has accelerated rapidly in the last few years. If you are having difficulty keeping up, or want to optimize the digital capacity of your business, consider applying for a Canada Digital Adoption Program (CDAP) Boost Your Business Technology.
In addition to helping your business scale up its technology, and become more resilient and competitive, the program also offers wage subsidies to hire youth to support the implementation of new technology and strategies.

Small businesses can apply next month for help with vandalism costs
Applications for the new $10.5-million Securing Small Business Rebate Program open on Nov. 22, 2023. Businesses will be able to apply for as much as $2,000 per business for the cost of repairs due to vandalism, and up to $1,000 for prevention measures.

Government of Canada extends Workforce Solutions Road Map and introduces new wage requirements under the Temporary Foreign Worker Program
The TFW Program Workforce Solutions Road Map helps employers respond to current labour market needs, while helping to ensure that Canadian jobs and wages are prioritized.
---
RELEVANT NEWS
Canadian Economic News – October 2023
Statistics Canada has provided a concise summary of selected Canadian economic events, as well as international and financial market developments for October 2023.
---
Employer Alert: New Requirements of BC Pay Transparency Act
On May 11, 2023, the Legislative Assembly of British Columbia passed the Pay Transparency Act (the Act). The Act imposes new restrictions and obligation on employers in relation to pay & pay reporting with new requirements in effect November 1st.
---
Canada to level out number of new permanent residents in Canada in 2026
Immigration Minister Marc Miller tabled new targets for the next three years in Parliament, which call for the number of new permanent residents to hold steady at 500,000 in 2026.
Canadian government spending to feed inflation next year, central banker says
If governments follow through with spending plans for 2024, it would mean "government spending is starting to get in the way of getting inflation back to target" of 2%, Macklem told members of a Senate committee.
Ontario Introduces New Consumer Protection Act
On October 23, 2023, the Ministry of Public and Business Service Delivery (Ministry), presented Bill 142, the Better for Consumers, Better for Businesses Act, 2023 in the Ontario Legislature, which bill introduces a new Consumer Protection Act, 2023 (New CPA) and, if passed, would repeal the existing Consumer Protection Act, 2002 (Current CPA).
---
Canadians will likely have to wait until next summer for interest rate cuts: CIBC's Benjamin Tal
"I think they will take their time before they cut interest rates — not before June or July of next year," Tal told the Financial Post's Larysa Harapyn in a recent interview. "That's another way of tightening, just keep high interest rates for longer."
Fiscal and monetary policy rowing in opposite directions, Macklem says
In response to questioning from Conservative MP Jasraj Singh Hallan, the governor says government spending is working at cross purposes with the central bank's efforts to bring inflation down.
---
CFA'S ADVOCACY PRIORITIES FOR 2022-2023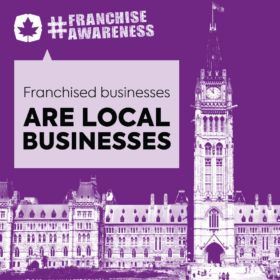 Educating Public Officials About Franchising
There is a mistaken perception that franchised businesses are not local businesses. While many brands are recognized across the country and across the world, local stores are owned by franchisees that live and work in their communities, from coast to coast to coast.
---
CFA ADVOCACY ACCOMPLISHMENTS
The CFA is dedicated to guaranteeing that policymakers nationwide recognize the significant role played by the franchise business model in Canada's economy and its impact on the livelihoods of nearly two million Canadians employed in franchising.
Learn more about our recent advocacy accomplishments here:
2023 | 2022 | 2021 | 2020 | 2019
Thank You to Our Advocacy Champions


THE CFA NEEDS YOUR SUPPORT!
Be active, be engaged, and get involved with the CFA's advocacy work to help protect the franchise business model.
We need your donation to help support the work we're doing to protect, promote, and advance the franchise industry in Canada. By supporting CFA's advocacy with a financial donation, you can help augment and strengthen our advocacy initiatives. Learn more about our initiatives here.